Kitchen cabinets have become a key selling point in the design industry. Your kitchen cabinets can be instrumental in selling your home. Youtube is flooded with DIY tutorials for painting your own cabinets. If you are not a DIY'er and you want a fresh new paint color on your cabinets, I suggest you hire a professional faux finish painter to do the job.
We are the experts: Many faux finishers specialize in cabinet and furniture painting. That means we are experts in knowing how to get the best results for a fraction of the cost. Most of us have spent thousands of dollars learning the techniques and countless hours perfecting our trade.
Specialty Products: There are many steps and tricks that an artist uses to achieve a professional finish. An artist has access to the best products that can't be bought at your local hardware store. There are special glazes and paints, and topcoats that are necessary to get the job done. We apply high quality pre-catalyzed pigmented waterborne lacquer.
Prep is 70% of the job: Prep is the most important part of the job. They must be properly repaired, cleaned, sanded, and primed, to achieve a finish that will last for years to come. The doors MUST BE REMOVED before painting. Each step must dry completely before going to the next step. More importantly, each step should be sanded before adding the next layer. This can be very tedious but it's very necessary.
Re-facing v.s. painting your cabinets: I suggest you call your local hardware store for pricing on refacing your cabinets you're going to get sticker shock and , you're going to get pretty much what you already have; laminate heat pressed on particleboard. What they do is replace the doors and glue the frame with a film to match the doors and that could run you about $7,000 – $10,000 for a small kitchen. Why spent the money when you can paint them for about a quarter of the price. Faux Finishes know how to work with different types of paints (Latex and Oil) and finishes (wood grain, antiquing, etc.) Kitchen cabinet refacing can cost thousands of dollars. The average cost runs between $233-$300 a linear foot depending on the design you select. Do the math on a small kitchen… 30 linear feet x $233 = approx $7000. OUCH!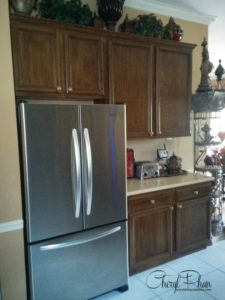 Faux Finishers keep up to date on the latest techniques and Trends: We invest time and money in our craft and keep up with the trends in our industry. The hot trends in cabinets right now are gray and white and wood grain.
Our process includes:
We remove the cabinet doors and take them off-site to work on them
All door are cleaned with degreaser
We lightly sand all surfaces and apply a high-grade primer to give it some tooth. (Something for the paint to stick to)
We apply two coats of high-quality paint
We apply a quality topcoat to protect the cabinets and painted finishes
We reinstall the cabinet doors and hardware
Select your style cabinet:
Distressed: We distress the finish around the edges for an aged look (if approved by homeowner)
Antiquing: We apply a glaze to enhance the architectural details of the cabinets
Wood Graining: All wood graining is hand-painted with oil paint. We have developed our own formula to create a realistic-looking wood grain finish.
What to expect
Your kitchen will be completely usable while we are working in your home. The project will take 7-10 to complete. You do not need to remove the dishes from the cupboard; we can push back anything that is in the way.
Save thousands of dollars painting vs refacing cabinets and save about $10,000+ vs replacing them, not to mention no demolition. We can paint wood, thermafoil or melamine cabinets.
Call 561-385-3069 or Contact Us for a free consultation.
If you want to learn how to start making money with your hobby get the details HERE
If you want to learn DIY Tricks and Tips get my weekly blog HERE
Do it yourself and save $$$$