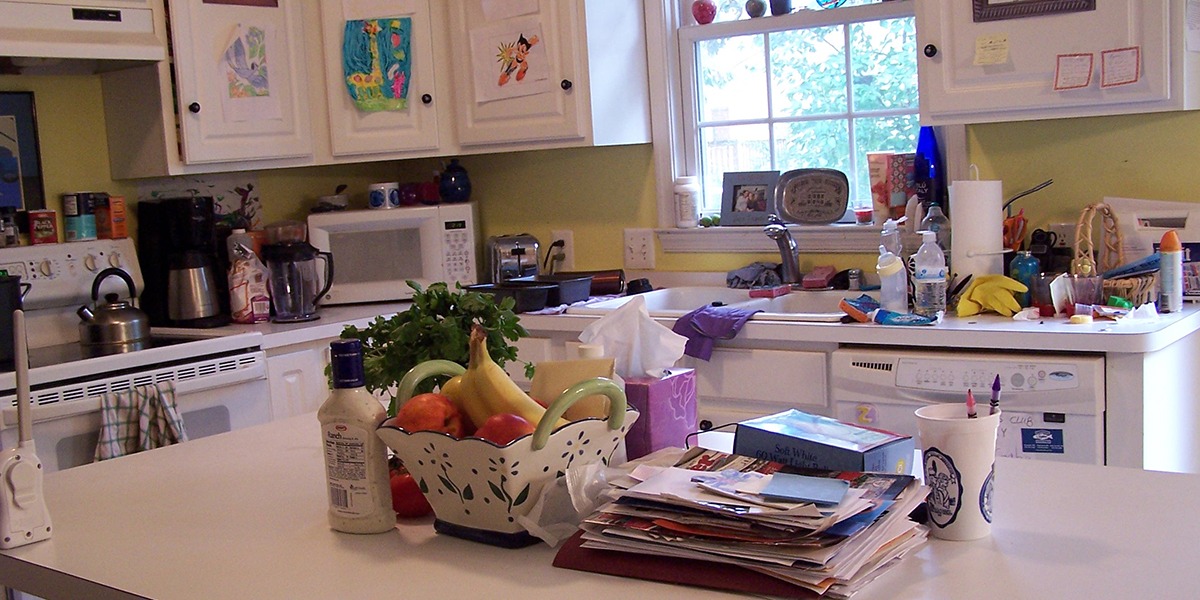 If you have a small kitchen, every square inch of counter space counts. You probably have items on your kitchen countertop that you don't use every day. Eliminate the clutter and put things away that you don't use daily. Your kitchen will not only be clean, it will look larger and make you feel so much better.
To cut the clutter and free up some cooking space, consider putting away the following items…
1. Toaster
While a toaster might seem like a can't-live-without item, it takes up a lot of space; put it in a cupboard until you need it. Big bulky appliances take up a lot of counter space.
2. Microwave
"UGH Really???"
Think about where your microwave might serve you better. That Microwave might seem like a necessary item but do you really cook in it? Or are you using it to make popcorn or warm up leftovers? Maybe the microwave should be placed over the stove or on a side table out of the way.
3. Utensils Spoons and more Spoons
Again, is there a better place for your utensils? Clean out that junk drawer and put them away. If you're tight on storage, then try and limit how many you have in the ceramic container on your stove or counter.
4. Extra dishes
You know that ugly dinnerware that your well-meaning friend gave you? You might keep stuff like that around in your cupboards and cabinetry, just in case you ever have more guests than your regular set of dinnerware can handle. But if that happens, renting plates from catering companies or borrowing them from friends and family are always viable options. Donate it to a Goodwill or Salvation Army, and promise they'll never notice.
5. Coffee maker
Although many people use their coffee maker on a daily basis (I know I do), that doesn't mean you use it all day long. When you're done with your morning coffee, stash it away and free up some space to prepare dinner.
6. Cha-keys
Little knick-knacks, picture frames, and soap dispensers, paper towel holders. All these things clutter up your space. Not to mention accumulate grease from cooking. If you're not using it for cooking, you don't need it on your countertops. Put the dish soap under the sink where it belongs. Another idea, hang the paper towels on the inside of a cabinet door, easy to reach and out of the way.
7. Chopping Blocks
You got rid of the microwave in the kitchen, and now the chopping block is next on the list; once again, if you're not using it, find a home for it. A great place for a chopping block is inside of your cabinet where you store your pans; slide it along the inside. It's just a matter of relocation.
8. Extra knives
That big wooden block sitting on your counter probably only has a few slots that see frequent action. A chef's knife, a paring knife, and a bread knife are all essential, but that's really all you need. Keep them sharp, keep them clean, and say farewell to all the knives that you kept around for reasons that may now escape you.
The same goes for that drawer (you know the one, everyone has one) with the jumble of mysterious items we find lying around and don't know where else to put them. Clear that out and do yourself a favor, and put it away. You'll thank yourself later.
WA-LA! A Clean Kitchen!
A clean kitchen can make cooking easier, and it spares you the trouble of finding homes for all those extra items. It also leads to less physical clutter and thereby gets rid of a lot of mental clutter, too.
And remember, you get to decide where these kinds of items serve you best, even if that means putting them in another room, chucking them, or donating them. When it comes to organizing, the only rules to follow are the ones you decide on yourself.
If you want to learn how to start making money with your hobby, get the details HERE
If you want to learn DIY Tricks and Tips, get my weekly blog HERE