Welcome to our virtual store!
If you find something you like just add it to the cart and we will send it to you ASAP.
Make your own Chalk Paint in ANY Color!
Mixes easily into any latex or acrylic (water-based) paint.
Get the exact color chalk paint you want.
Much more affordable than pre-mixed chalk paints.
No More Waste! You can mix just the right amount.
Can be stored for up to a year after mixing. (Just store in a sealed container and stir when you open)
You can also make chalkboard paint. (Simply double the amount of powder for the same amount of paint)
Get a smooth, clean, and vintage look
You can use ANY flat or matte latex paint from ANY manufacturer.  I buy a sample of paint at Home Depot for $2.98 and add 2 TBSP of my Magic Powder. THAT'S it!
Shipping is an $8.50 flat rate via USPS Priority Mail. With Shipping & Handling, expect your package in 7-10 days. Thank you! 
Magic Powder – available in 8oz and 16oz sizes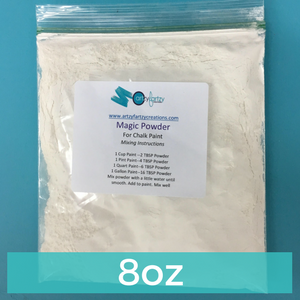 Paint Tutorials & Workshops