This such an amazing technique. No two are ever alike.
You can create this on any flat surface. I did this on a plate charger that I bought in thrift store for 99 cents. I have also seen them in the Dollar Store. They also work well on framed canvas, lazy Susie's and small table tops.
This post may contains affiliate links from Amazon. I will make a small commission if your purchase these items from my blog. You will not be charged extra! Thank you.
Dirty Pour Supplies
stir sticks

plastic cups

water
Dirty Pour Steps
Watch this video for step-by-step instructions how to make your own dirty pour.
Prime the surface you are going to paint. This will insure the paint with stick

   
2. Depending on the size of you project, mix equal amount of floetrol and Elmer's glue. For a small plate I used about 1/8 cup of each. Mix well.
3. Then pour a small amount of paint into each cup. If you are using 4 different colors then you will need 5 cups. One for each color and the last one for the dump. Mix each one. If it to thick, you can add a few drops of water.
4. Add 3 drops of silicone to each cup. Mix lightly. This is what makes the cells in the design.
5. Once you have all the colors mixed (separately) you want to pour small amounts of each color into one larger cup, starting with white. DO NOT mix the last cup.
6. Place your project on the Painters Pyramids and dump the cup of paint in the middle of your project. Let it set for about 15-20 seconds, them lift the cup so the paint flows.  Make sure you are wearing gloves; this can get a little messy. Slightly tip your project so the paint runs in different directions and flows over the sides. Use the heat gun to more the paint around and  create the cells.  Let it dry for a few days. Then clear coat with the polycrylic with a brush or roller. Use a soft brush like this so you don't get brush marks.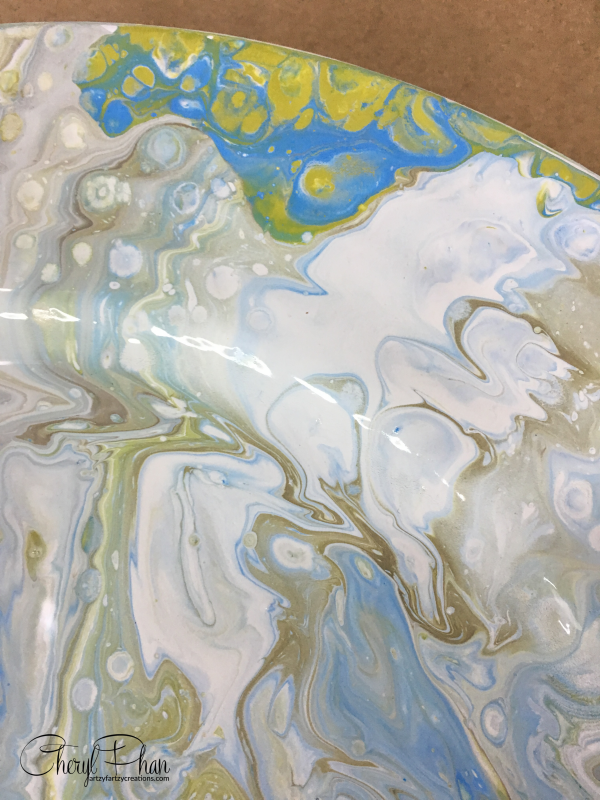 The cells are the burst of circles you see.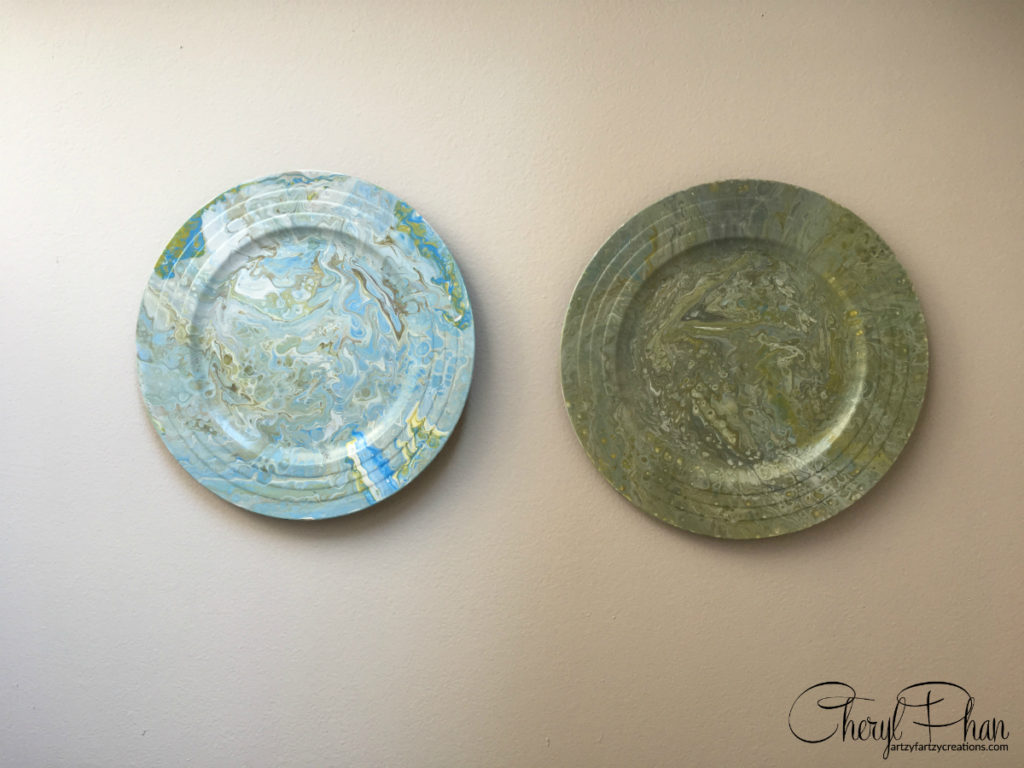 As you can see, you can create different colors with a dirty pour. I used the same colors for both plates. I used more of the blue and white on one and more, green and gray on the other. Every plate will look different.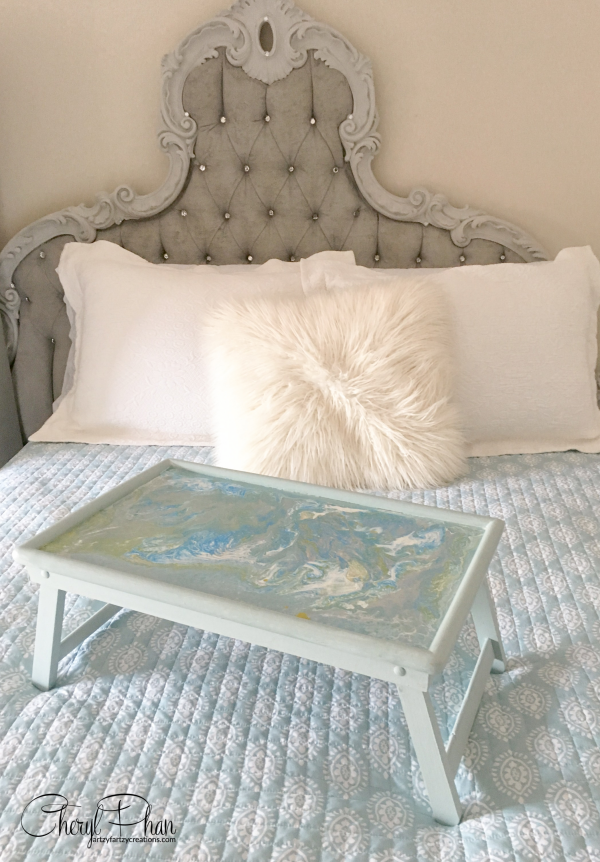 I also did a dirty pour on a TV tray.
If you're interested in learning to DIY unique faux finishes — check out my e-book – How to Faux Finish with Common Household Items.  I"ll teach you six amazing painting techniques to create more stunning walls for only $5.99.
If you loving seeing furniture flips and getting painting tips please subscribe to my weekly blog here! I've got a free tutorial on how to paint a silver leaf or gold leaf finish HERE. Also,  check out my favorite paint brushes in my NEW online shop.
HAPPY PAINTING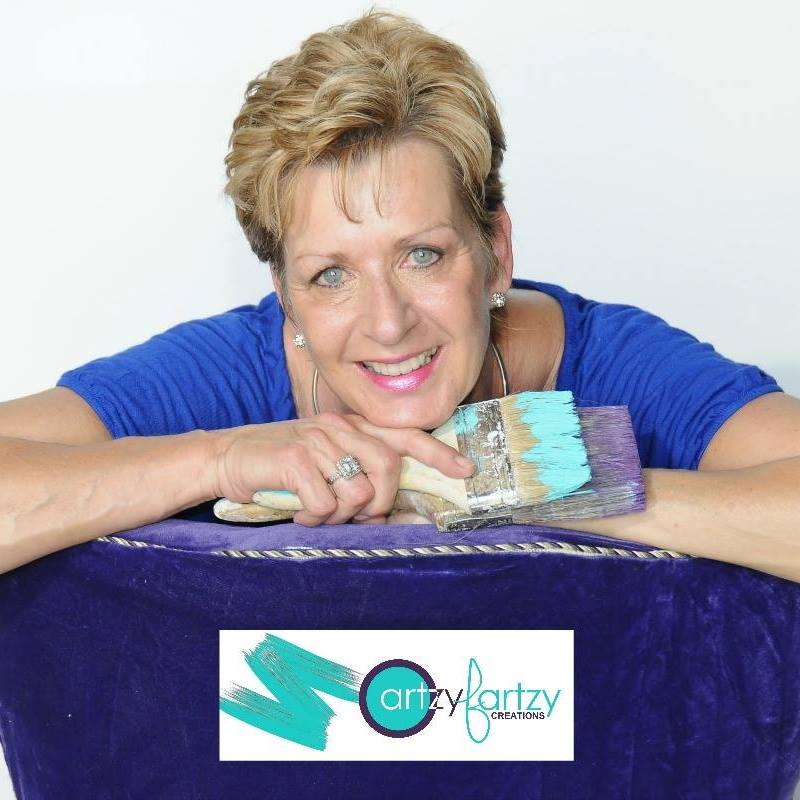 Don't forget to follow me on facebook for more DIY budget-friendly projects and live videos!
Please share my Dirty Pour Designs pin and visit me on Pinterest for more DIY projects & painting tips!