An office in a box is a perfect solution for people who don't have a lot of room in their house to set up an office or are a little OCD like me. I'm one of those people who needs everything tucked away nice and neat. I can't function in a messy workspace so I can up with a great solution…
My Office In A Box!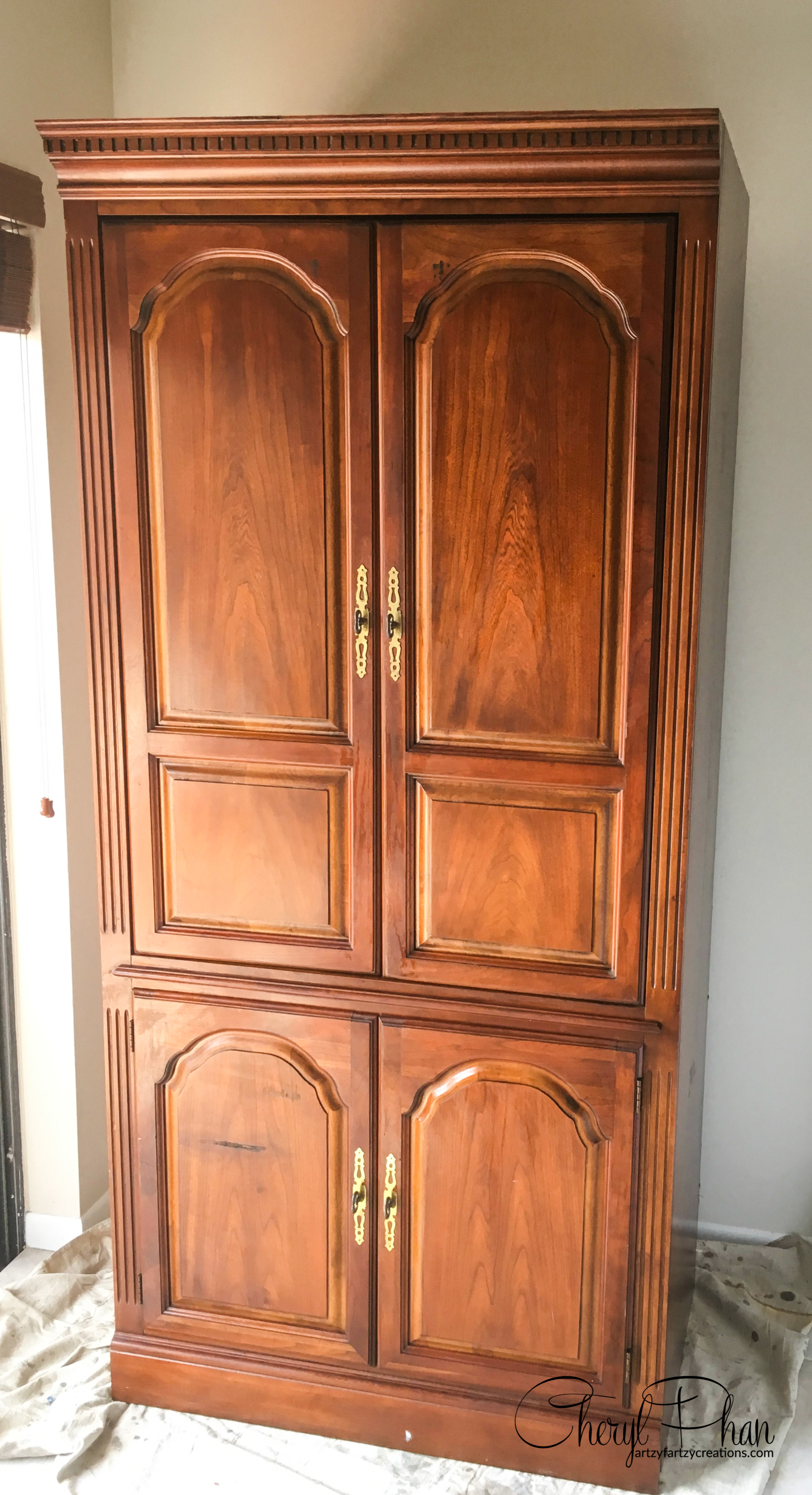 Believe it or not I bought this armoire at a thrift store for only $40. I liked the panels on the outside and the overall size was perfect.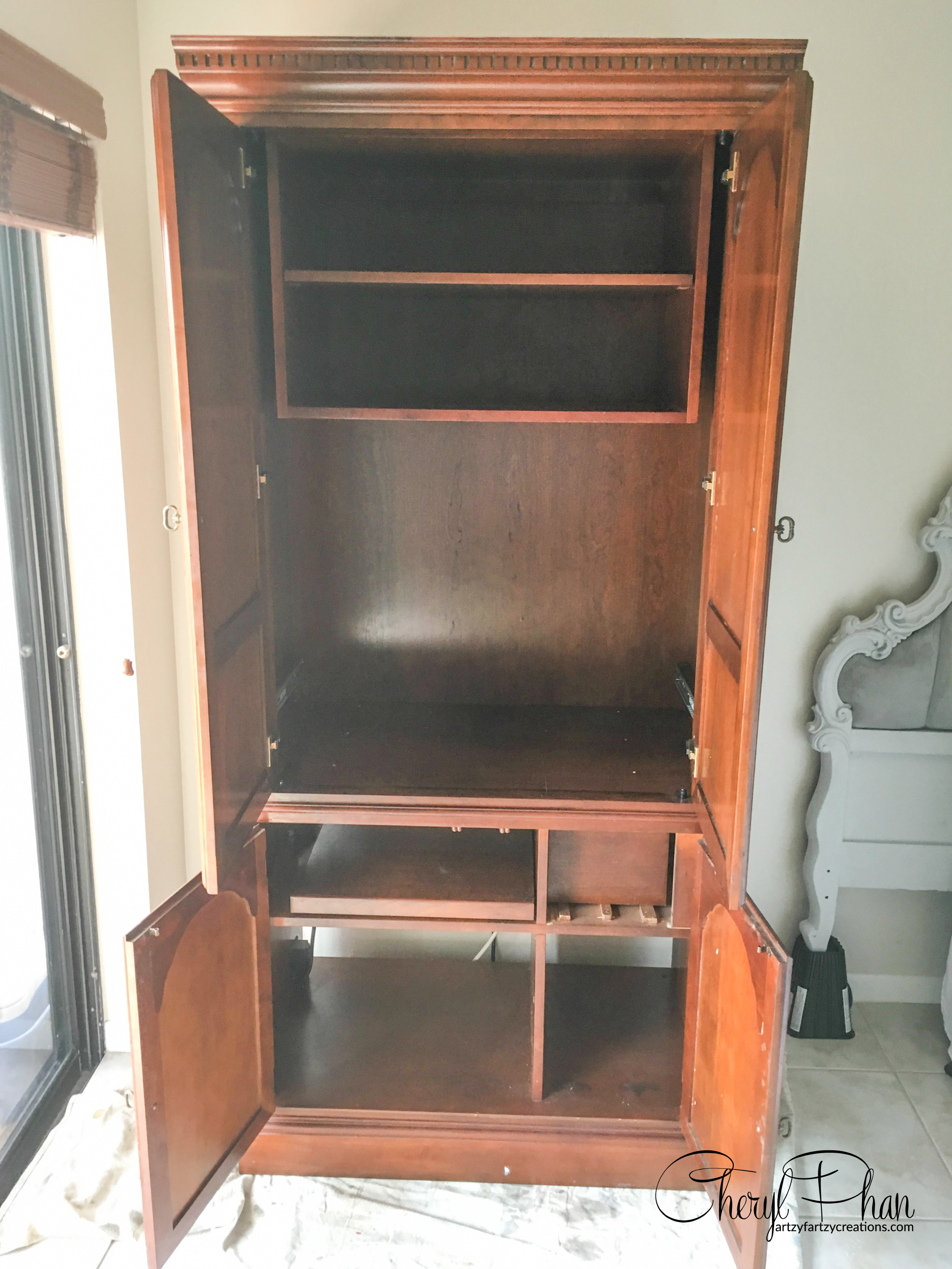 What's most important is the inside and if it is a workable space. I always look for armoires and wardrobes that have cubby space and drawers and shelves that slide out. The other thing I liked about this office in a box is the doors. They slide in and don't swing open.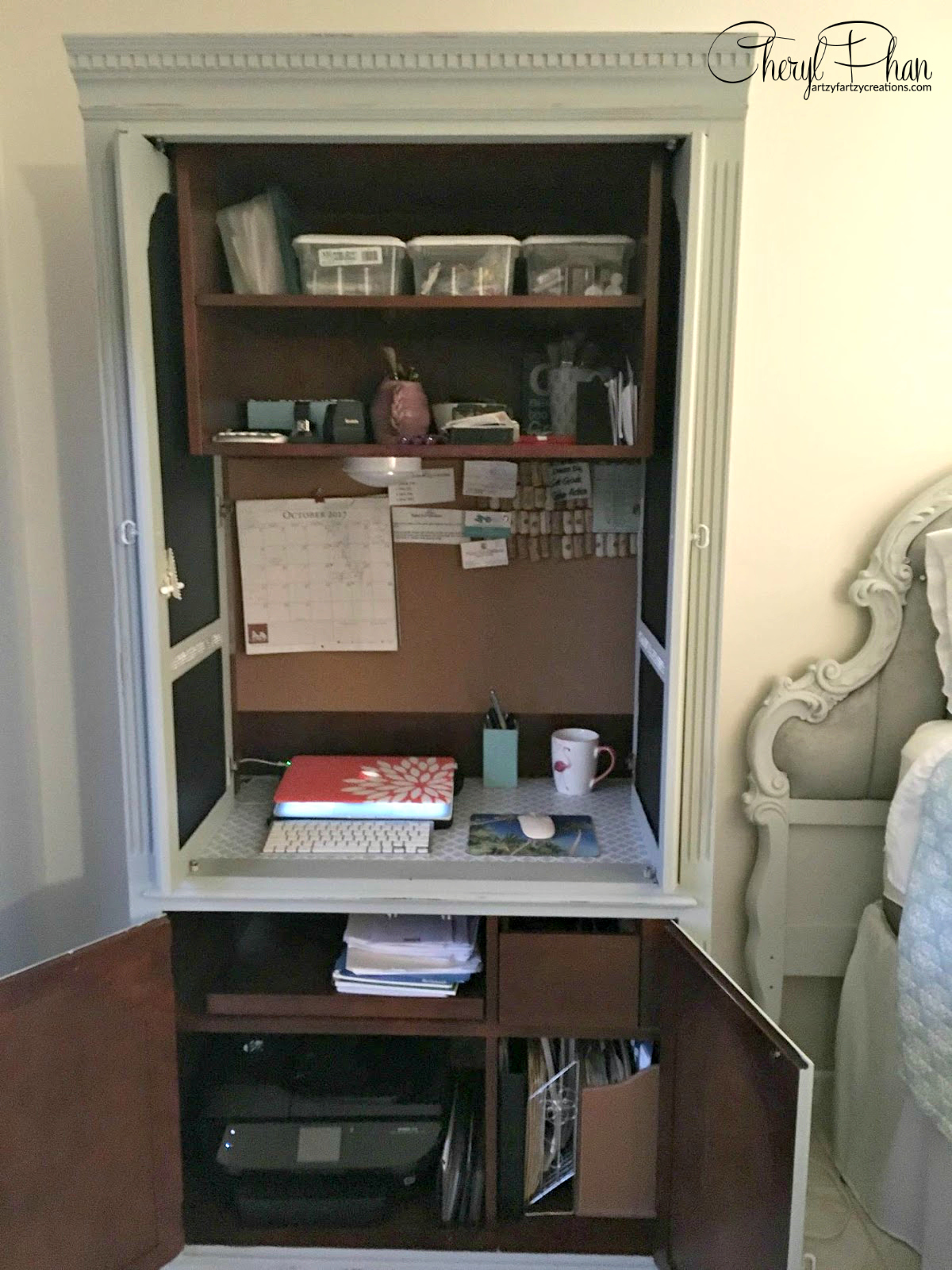 As you can see these cubbies are great for storing office supplies and paperwork. I'm so glad the printer fit in there. One of the other things I did was add cork to the back panel so I can pin my notes up, but to my surprise, the cord was so thin my notes where falling off. In the top right corner, I started hot gluing wine corks over the thin cork to give it more pin cushion.  As you can see I have a lot of drinking to do to fill in the backdrop. I figured I need about 300 corks.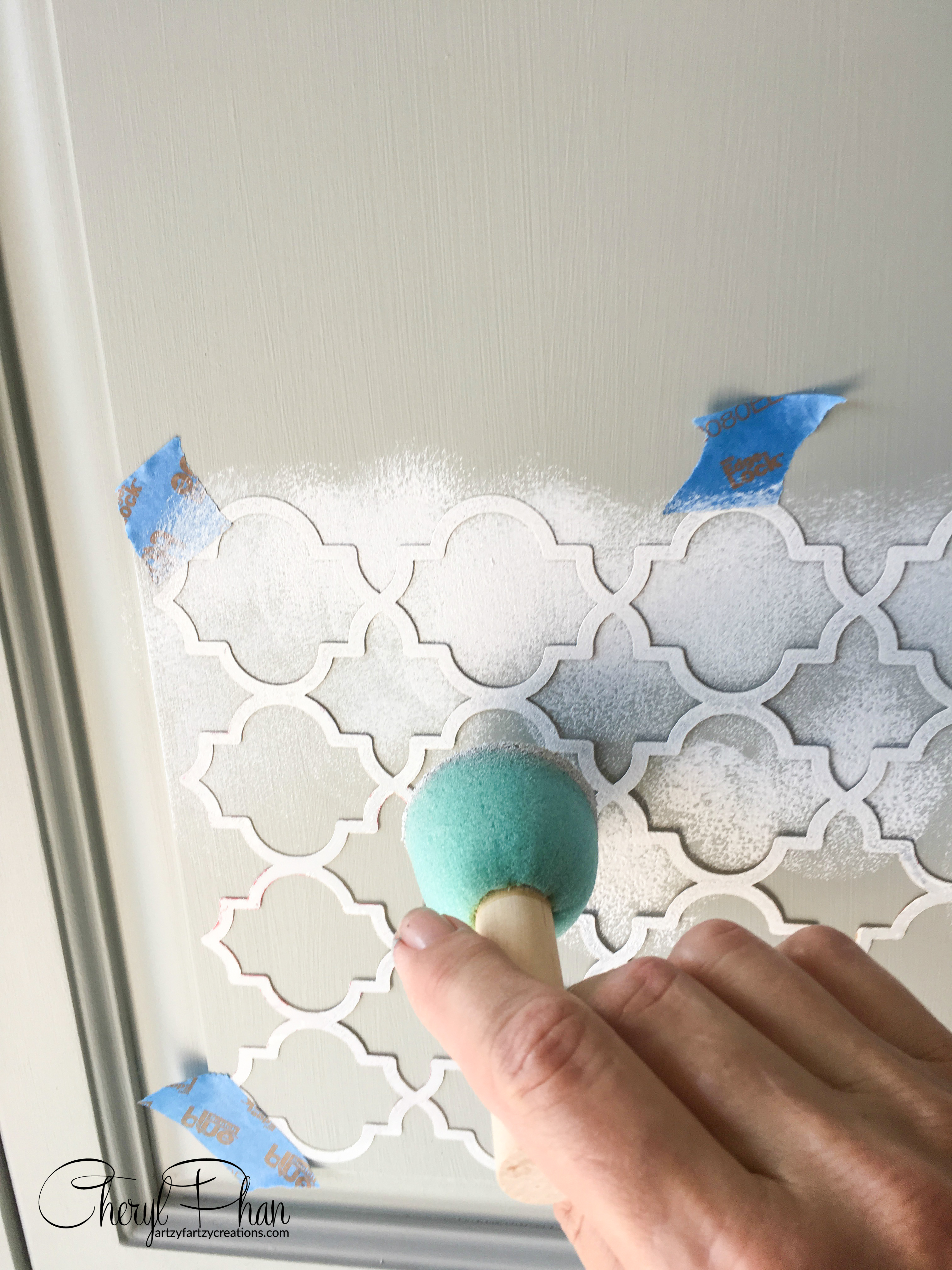 I wanted to make this fast and simple. I didn't have time to do a lot of fancy detail and wait for paint to dry. Thank God for chalk type paint. The best thing about chalk type paint you can eliminate the prep, which usually takes the most time. The first thing I did was make my own chalk paint to save money.  It's super easy and ¼ of the cost of retail chalk paint.
Here's a quick video showing how to make your own chalk paint.  
I painted two coats of gray chalk paint in the entire project. Then I used a piece of 220 grit sandpaper and lightly distressed the corners and edges. You don't want to over distress your furniture. Remember, less is more!
I love this lattice stencil design. It's soooo easy to use. Just tape the Stencil where you want your design and use a stencil sponge to apply white chalk type paint. As you can see I applied mine very sporadically and didn't fill in completely. This will give it an aged look and you don't have to worry about getting it perfect.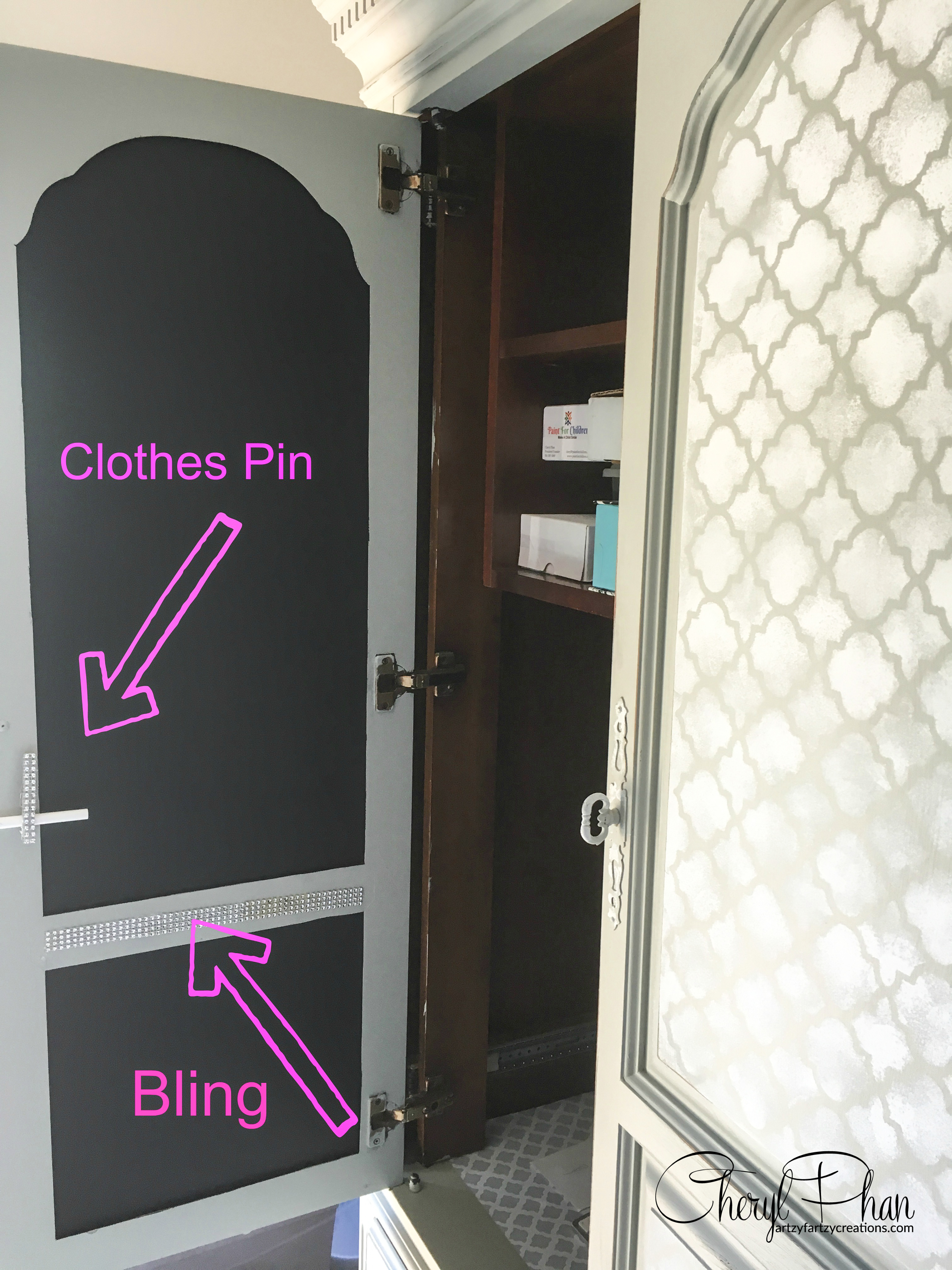 In this area, I painted black chalk paint and used a clothespin to hold the chalk.
I use this area to write my to-do list.  You can make your own chalkboard paint with flat black paint and magic powder  (which you can purchase in my online shop)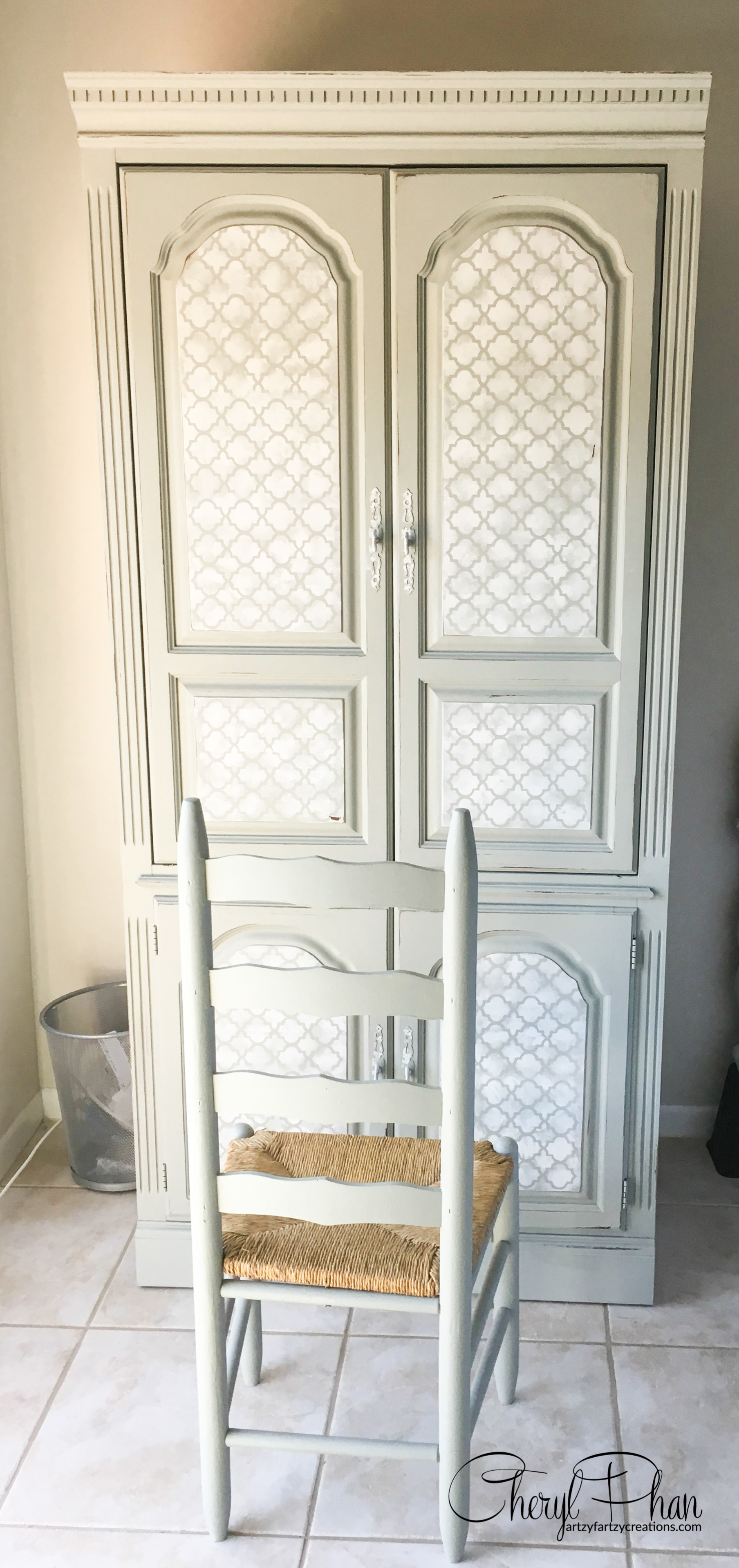 Back in the day, people used to put their TVs in there and now they hang them on the wall. Thrift stores have an abundance of armoires and they are happy to get rid of them.  Go check your local thrift stores and find that perfect OFFICE IN A BOX for your next project.
If you want to learn how to start making money with your hobby get the details HERE
If you want to learn DIY Tricks and Tips get my weekly blog HERE
HAPPY PAINTING