When decorating a room we look at many different things for inspiration. Most of the time it's a picture we saw in a magazine, colors in a painting hanging on the wall or a print from a pillow tossed on the bed. My client Lisa had another vision.

Let me take you back a few years where the story began. Lisa and her husband Dan adopted a beautiful little girl from Russia when she was just 4 years old. Gina is now 10 years old and is about as Americanized as you can get with new opportunities and big dreams in her future. Not long ago Gina lost her Dad in a plane crash, leaving Lisa to raise and teach their daughter all of her father's great entrepreneurial qualities so she could live the American dream.
Lisa's first idea was to create a fun and playful office for her and her daughter to share as she teaches her how to become an entrepreneur and start her own dog walking/grooming business. It started out with painting the walls a vibrant Sherwin Williams "Exuberant Pink" color and painting the tired dark wood desk a Sherwin Williams "Shell White" to match Gina's new desk she got for Christmas. But as you will see it didn't end there.
When I showed up to work one morning I saw this purse sitting on the desk with a note from Lisa "What do you thing about painting this on the walls"? My first thought was; how stinkin cute would this be!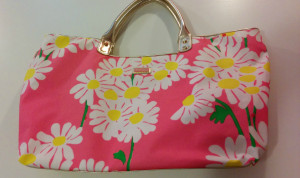 As I stepped back and pondered with the ideas of painting flowers on the walls I couldn't help but notice the bookshelves. They were just screaming for attention. Now I had to somehow introduce another color to the room and that's where the Sunny Yellow came in.
We decided on the Sunny Yellow as the background color because I had already painted the walls in the Exuberant Pink and if I added the same color to the bookshelves it would have been too much pink in the room. The Yellow was a nice contrast and added a bit of sunshine to the theme.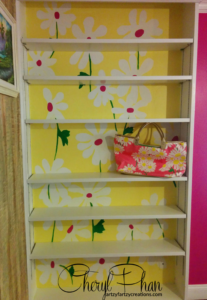 Boring to Brilliant! The bouquet of flowers immediately draws your eye to the bookshelves when entering the room.
While mother and daughter create a special bond they continue the legacy of a special man and his entrepreneurial spirit lives on. I'm sure he is looking down on them with a big smile on his face.
I wanted to get my clients permission to post this blog before I posted it because of the personal nature of the content and it's only been a couple of months since she lost her husband. This was her reply; "I read your blog and saw the pictures yesterday and cried. It was a good cry and I am so blessed that you are part of our lives!! The blog is awesome. Go ahead and use it."
I am very blessed to have such amazing clients!
If you want to learn how to start making money with your hobby get the details HERE
If you want to learn DIY Tricks and Tips get my weekly blog HERE