Wow, I can't believe we're already through the first month of 2016. I'm still wondering where 2015 went.
I'm pretty new to blogging and I'm still trying to figure out what to blog about most of the time. There's so much I want to share with you and I sometimes struggle with what content is most relevant and what you actually want to learn about. Please feel free to leave me a comment. I would love to hear from you. I know many of you follow my Facebook page and get a glimpse of my latest projects but unfortunately, I can't post all the details and step-by-step instruction there so
If you don't want to miss any of my blog posts you can have them delivered to your email inbox here. I like showing before & after pictures of my projects so you can see what they looked like before I started.  After 15 years of painting, I'm still amazed at what a little paint can do to transform a space.
Drum Roll Please! My Top 6 Projects of 2015! 
#6.  Custom stenciled floor
Why use tile when you can paint a custom design!
#5 Chevron Stencil Design
The beautiful thing about using a stencil is, you can color match your paint to your bedding for a complete custom look!
#4    3D Faux Brick Wall!
Each brick was applied and painted one at a time. It was a lot of work but well worth the effort!
#3 A Nursery Fit For A Princess!
The stripes on the cornice were matched to the wall.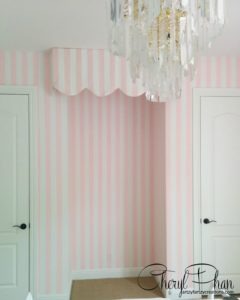 #2 Luster Stone & Stenciling Design
This ceiling is the focal point of this master bathroom the light dances all over this ceiling!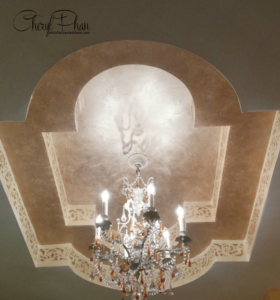 #1 My Signature Crocodile finish!
This finish looks absolutely STUNNING! on walls. I have done this finish on walls and furniture more times than I can count.  My secret recipe for this finish will be available soon on video. Stay Tuned!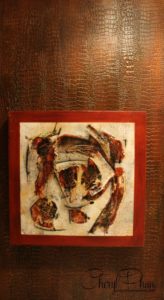 If you want to learn how to start making money with your hobby get the details HERE
If you want to learn DIY Tricks and Tips get my weekly blog HERE
.