Sorry, it's been a while since I have posted a blog. My computer files were held hostage for ransom.  I heard about this on TV but never thought it would happen to me. WELL,IT DID. UGH! You might want to read this so it doesn't happen to you.
The CryptoLocker Trojan is a ransomware infection that encrypts the victim's files. Once CryptoLocker is installed, it will search for sensitive files on the victim's computer and encrypt them. Essentially, it takes the infected computer hostage by preventing access to any of the computer user's files. CryptoLocker then demands payment of a ransom to decrypt the infected files.
CryptoLocker then displays an alarming message when the infected computer starts up. This message demands payment in order to decrypt the infected files.
When I notice that all my files were turned into MP3s I took my computer to Best Buy 'The Computer geeks" to have look at it.
When I returned to pick it up they told me I have good news and bad news. The good news is they removed the Trojan at a mere cost of $150.00…. The bad news is they couldn't retrieve my files. I was devastated. I lost EVERYTHING!!!! All my clients' contracts, contact info, Pictures of all my work, family pictures and important personal information, etc. I literally sat in my car and cried for 20 minutes. Then I prayed and as God to see me through this mess. He gave me peace and let me know that everything will be OK. When one door closes another one opens. It's time to pull up my bootstraps and rebuild.
You're probably thinking, what happened right! Did you open an email from someone you didn't know? Did you open a link in an email? Or maybe it was a website I went on. Well, after talking to many computer geeks and the FBI, I was told it could have been any one of them. I get emails from people I don't know all the time. I'm in business and people contact me through emails, my website, phone, etc. I think it could have been an email I opened that said I had a $605 invoice. So naturally, I opened it to see who it was. I'm almost positive it was that email.
Here's the message they send you: Dirty rotten creeps!
This image is to show you what the message looks like…..DON'T do what it's asking you to do.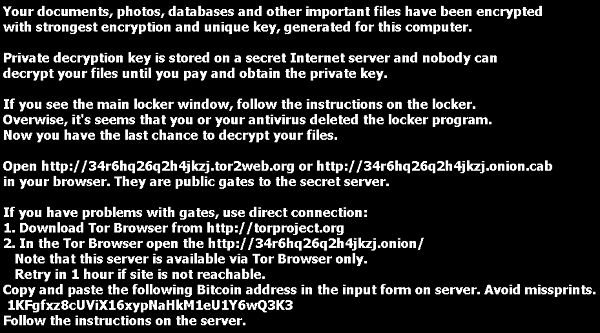 This is what they do. They hold your files for ransom. If you don't pay within 72 hours the price goes up. If you do pay them its untraceable and no guarantee they will unlock the files. Honestly, I was thinking about paying it, and then my common sense and better judgment got the best of me. I'd didn't pay it. I decided to buy a new Mac computer, I was told that the Apple "Mac" computers don't get hit with these viruses like the PCs. So I took the plunge and bought a new Apple computer and iPhone so I can sync everything together and save all my files in the Icloud. Not only was it an expensive transformation but a new learning curve as well. I'm on information overload!
I've been thinking of what advice I could give all my fellow followers so you don't have to go through this mess, but honestly, it could happen to anyone. Just be careful when you open emails and try and stay off websites that look suspicious. If this does happen to you or someone you know, please reconsider paying the ransom. If we continue to pay them they will keep doing it. It's wrong on so many levels.
Whenever I need a file that I don't have anymore I keep these scriptures in mind and it helps me to move on and keep my faith.
Nehemiah 2:20 The God of Heaven will give us success. We, his servants, will start rebuilding.
Philippians 3:14 I press on toward the goal to win the prize for which God has called me heavenward in Christ Jesus.
Philippians  4:13  I can do all things through Him who gives me strength.
I promise to have a fun and pretty DIY project for my next post. I'm working on a few projects I know you will love.
If you want to learn how to start making money with your hobby get the details HERE
If you want to learn DIY Tricks and Tips get my weekly blog HERE