Are you a DIYer who likes to make your own home décor for the holidays? I could spend hours shopping in ZGallerie for decorating ideas. This store is just loaded with exquisite home Décor and  Easy Peasy DIY Projects I can make myself. This Twig display caught my eye and my first thought was, this would look nice in my daughter's house, so I snuck a picture of it. It took me less than an hour and under $10 to make it.  In fact, I'll show you just how I did it so you too can create your own DIY Christmas decor!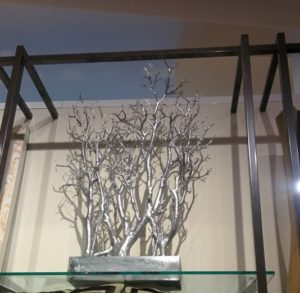 Here are all the supplies you will need. It's so easy to make and looks so stinking cute.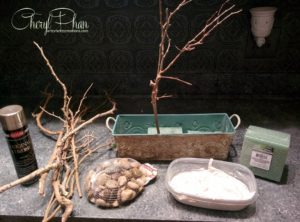 The first thing you want to do is find some twigs that are kind of squiggly. I just cut them off a tree outside in my yard. Make sure their not brittle and fall apart easily.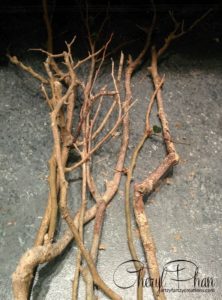 Step #1
You're going to need some kind of a tin container; any size or shape will do. I had this one in my studio. You will also need Joint Compound or you could also use cement or anything that will harden and hold the twigs in place. I just happen to have the joint compound on hand.
You're also going to need some Styrofoam, I bought these squares at the Dollar Store and cut them in half so they would fit in my tin container.
The first thing you want to do is take some of your cement and spread it on the bottom of your container; this is going to hold the Styrofoam in place. Then lay the Styrofoam on top of the cement. Once you have all the Styrofoam in place, add more cement on top of the Styrofoam until it is completely covered.
Now you're ready to add all the twigs. Just put the twig through the Styrofoam and it should stay in place. Arrange them any way you want
Let the cement dry overnight. Once it's dry, spray paint the entire project with shiny silver spray paint.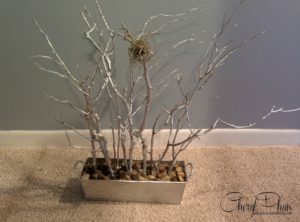 Lastly, hot glue the rocks on the cement. I added this little air plant just for fun. As you can see my piece isn't as full as the one I saw at Z Gallerie, but it's still pretty and very decorative. I just love it! If you would like to see more DIY Home Décor Ideas visit my Pinterest page.
If you want to learn how to start making money with your hobby get the details HERE
If you want to learn DIY Tricks and Tips get my weekly blog HERE