One of my favorite things to do is go shopping in a thrift store. I find some of the best bargains there. Take this table and two chairs I found for only $20.
I turned it into the cutest coastal dinette set and sold it for $200. Not bad for a $20 investment and the entire project was painted with chalk paint that I make from leftover paint.
Read on if you want to watch the step-by-step video and get the complete supply list.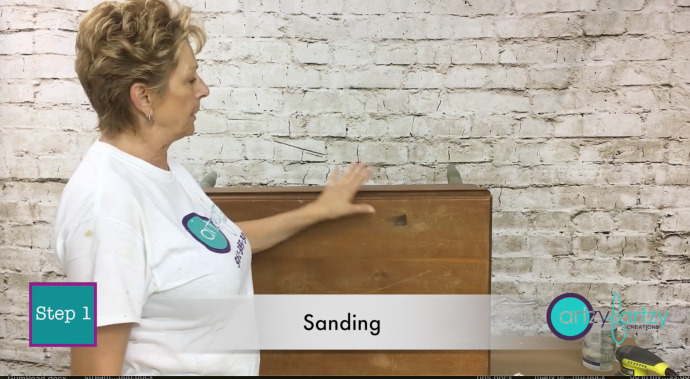 The first thing I always do is sand the furniture. Yes, even when I'm painting with chalk paint. Sanding it can smooth out a multitude of defects like dings, stains and it takes off the clear coat so the paint will stick better. Then you want to clean it with TSP.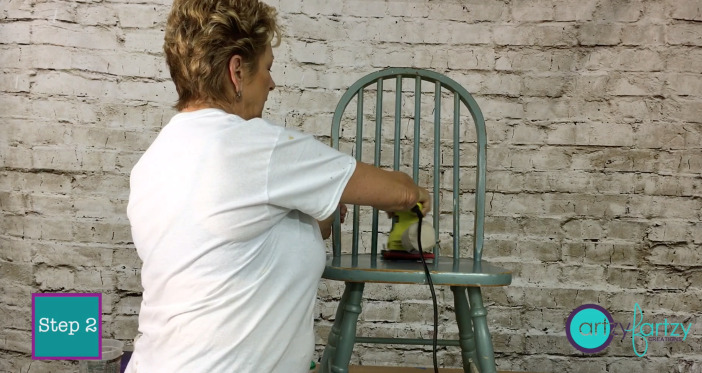 This chair was a hot mess, so it needed a bit more sanding with an electric sander using 220 grit sandpaper. and then I had to fill in the holes with wood putty.  Once the putty is dry sand it down to make it smooth.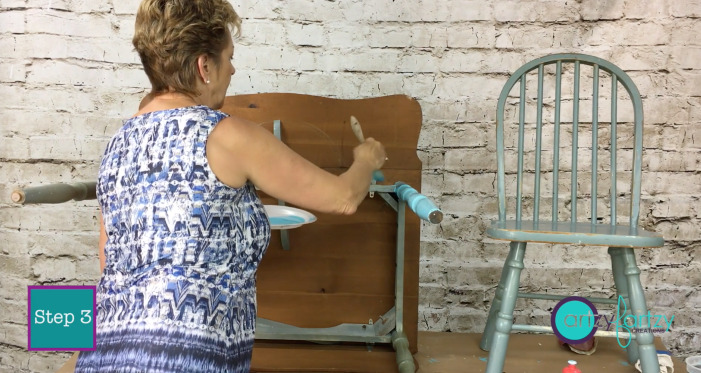 After making my chalk paint I painted the table and chairs with two coats of paint using a round brush. I love using this brush because it's made for painting spindles on furniture and makes it so much easier. Learn how to make your own chalk paint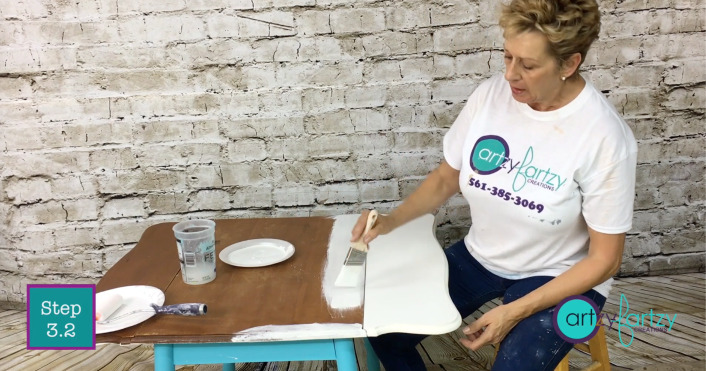 For the table, I used a flat brush and a sponge roller to apply the chalk paint on the table. One of the things I love about this brush is the bristles are smooth and it doesn't leave paint strokes. Also, if you use a sponge roller you will achieve a smooth finish.  Apply two coats.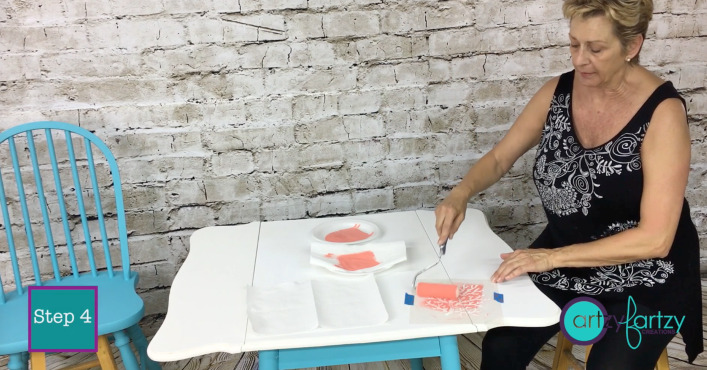 Once the paint is dry you can apply the stencil design. I used this coral design because I was wanting a coastal look. Of course, you can create any design you want and use any color paint you desire.
Tape your stencil to the table and use a sponge roller to apply the paint.
Quick tip, make sure you offload some of the paint from the roller so you are basically dry rolling it on. If you don't do that the paint may bleed through and you won't have a clean edge on your design.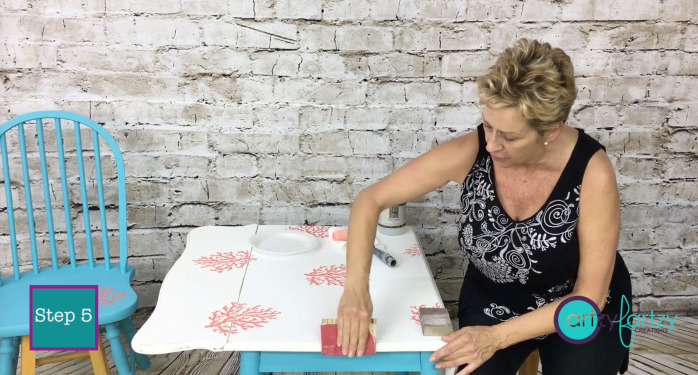 Next, take a small piece of sandpaper and lightly sand some of the edges if you want to have a bit of a distressed look (Optional)
Wipe off any dust with a clean cloth and seal it with a clear coat.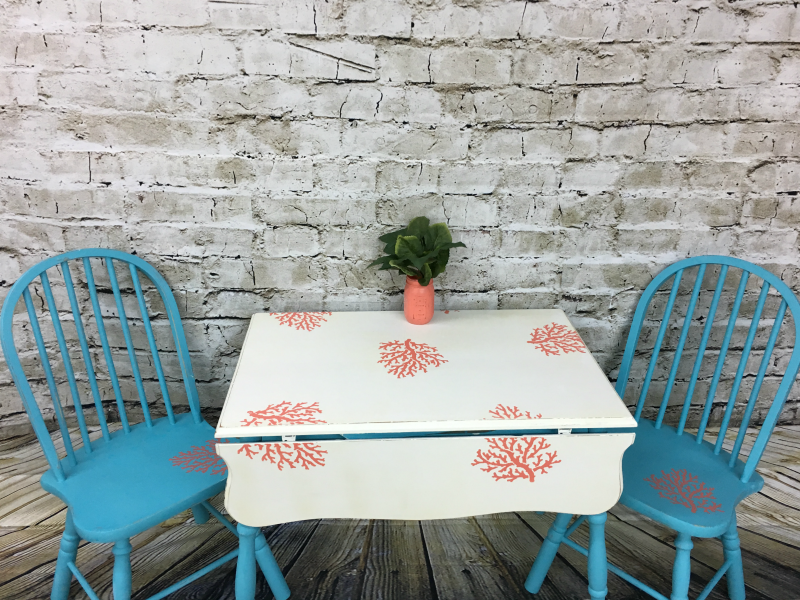 Isn't this the cutest table ever? The person that bought it from me owned a little coffee shop and wanted to have different tables and chairs throughout his shop.
He loved this set and was so excited to use it.
I hope you enjoyed this and found some inspiration. If you have any questions feel free to reach out to me.
P.S. Want to learn how to turn your hobby into a business? Go here and learn how you can make money doing what you love.
Blessings
Cheryl
Watch the video here
Supply List
Supply List
Rags/old t-shirts
Gloves: https://amzn.to/308TUX4
Krud Kutter: https://amzn.to/31q7HsD
Magic Powder: https://artzyfartzycreations.com/shop/
Flat/Matte paint (any home improvement store)
Round paintbrush: https://amzn.to/3wk2Btz
Flat brush: https://amzn.to/2Yk6jGO
Measuring cup (dollar tree)
Measuring spoon (dollar tree)
Container to mix paint
Wood filler: https://amzn.to/3bJe4tb
Magic powder: https://artzyfartzycreations.com/shop/
Coral stencil: http://www.cuttingedgestencils.com/beach-style-decor-coral-stencil.html
Faux effects clear coat) http://www.fauxstore.com/ProductInfo/GL-C500-32-DULL.aspx?id=8
Sponge roller & Sleeve: https://amzn.to/3bLlpYW
Sandpaper 220 grit: https://amzn.to/3GWLPW1
Tape: Any home improvement store
Sign up for my weekly blog here.
To make your shopping experience easier, we provide affiliate links. Double-check size and colors before ordering.