I can think of so many things you could do with this filing cabinet. This would make a great cabinet to use in your bathroom for all your hair products and makeup or prop it up in the corner of your kitchen and store pot holders, kitchen towels and utensils, what about using it in your laundry room. For under $30 you can refinish and repurpose this old piece of furniture and give it a new home.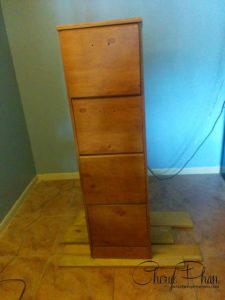 #1: Start by removing the hardware and lightly sanding the cabinets with 220 grit sandpaper; after you're done sanding wipe it down with a clean cloth. (Note: as you can see I propped it up on some wood planks so I didn't get paint on the floor or have the paint stick to plastic or paper.)
#2: Press the hardware in a piece of Styrofoam to hold it in place. Spray paint it with Rust- Oleum Metal primer and let it dry for 30 minutes, then spray it with a Rust-Oleum Metal/ Metallic spray paint and let it dry for about 30 minutes.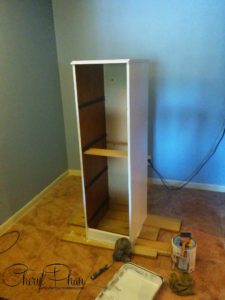 #3. Prime the frame and draws with Primer (Kilz or Stix primer works well)
Use a sponge roller to get a smooth finish and a cut-in brush in the areas that you can't reach with the roller.
Let it dry 4 hours before
Paint frame and draws with any Satin Latex paint in any color. Paint in the same manner as the primers. Paint two coats allowing the first coat to dry 3-4 hours before painting the second coat.
Allow second coat to dry 4hours before distressing (Optional)
Use a 220 grit sandpaper to sand down the corners and areas that are normal wear and tear areas. If you really want to get creative add a stencil design. Put your new freshly painted hardware back on and you have a new piece of furniture that is functional and decorative.
If you want to learn how to start making money with your hobby get the details HERE
If you want to learn DIY Tricks and Tips get my weekly blog HERE