A mother's love is never-ending. This is my daughter's house she bought over 10 years ago when she first moved in. As you can see it's very out-dated and needed some TLC.

I re-did her kitchen 3 times in the last 10 years. Every 3-4 years she decides she wants a new look, so who does she call MOM! But, I must say; I'm always happy to do it. It's amazing how this kitchen can look completely different with just paint!
This is the kitchen before she moved in.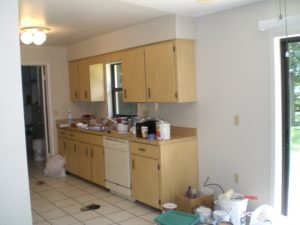 The first transformation she wanted an Old World feel with brick break-away, freshly painted cabinets and faux granite. The brick took the longest to do because we ripped the tape so the grout line didn't have a straight edge, giving it a more authentic look.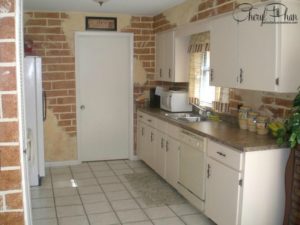 The second transformation she wanted a contemporary look with wood-grained cabinets with a fresh coat of paint on the walls. As you can see on the cabinets we replaced the knobs with a brushed nickel single knob and to save $250 I painted the hinges.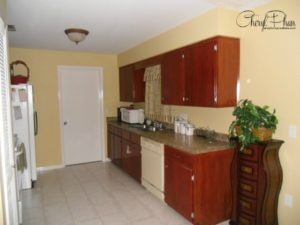 The third and hopefully final transformation her new look is more of a Coastal Living theme. I painted the cabinets back to white, changed the hardware, re-did the countertops in gray and white faux granite, and painted the walls in beige color. She also laid a new tile that looks like wood on the floor. I told her there is so much paint in this room, that if a hurricane ever came through; this room would never move.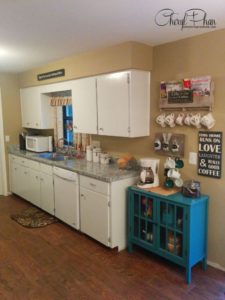 It just goes to show with a little paint and a little work you can totally transform the same room and get a completely different look. Hope you enjoyed my transformations.
If you want to learn how to start making money with your hobby get the details HERE
If you want to learn DIY Tricks and Tips get my weekly blog HERE