I had so many earrings I never wore because they were just thrown in a draw and I could never find the matching earring. I decided to make this display out of an old picture frame so I could see all my jewelry. Plus it looks really nice on my wall, not to mention it's so much faster getting dressed in the morning. And best of all it's super easy to make!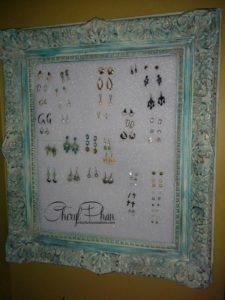 Let me show you how I made it.
I had this old frame laying around and didn't have any plans to put a picture in it, plus it was missing the glass and backing. All I did was paint the frame with Chalk paint in this pretty Maya Blue color from Paint Du Coco and let it dry for a couple of hours. Then I painted over it with my second color Pure Silk chalk paint. Once it was dry (about 30 minutes) I distressed it so all three colors came peaking through.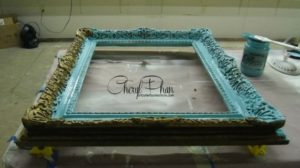 These are the colors I used
After I was done distressing it I added a small amount of black wax to make it look even more aged.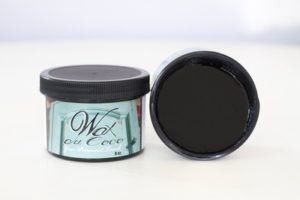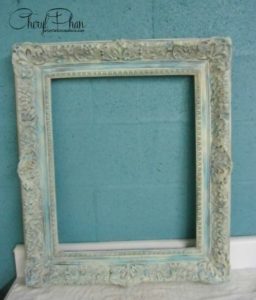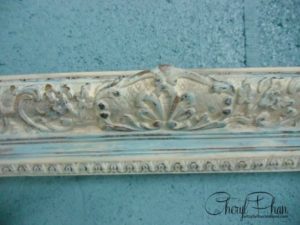 Then I cut a piece of Styrofoam and applied it to the back of the frame. I used packing tape to hold it in place and then stapled a piece of cardboard over it to make it more stable and hold the Styrofoam in place.  Add a hook to the back and you have a beautiful frame to display your jewelry. Just a quick note: I took the backs out of the earrings and put them in a tin container because I didn't want the  Styrofoam to get large holes in it.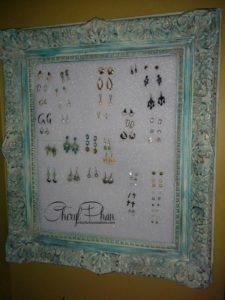 If you want to learn how to start making money with your hobby get the details HERE
If you want to learn DIY Tricks and Tips get my weekly blog HERE