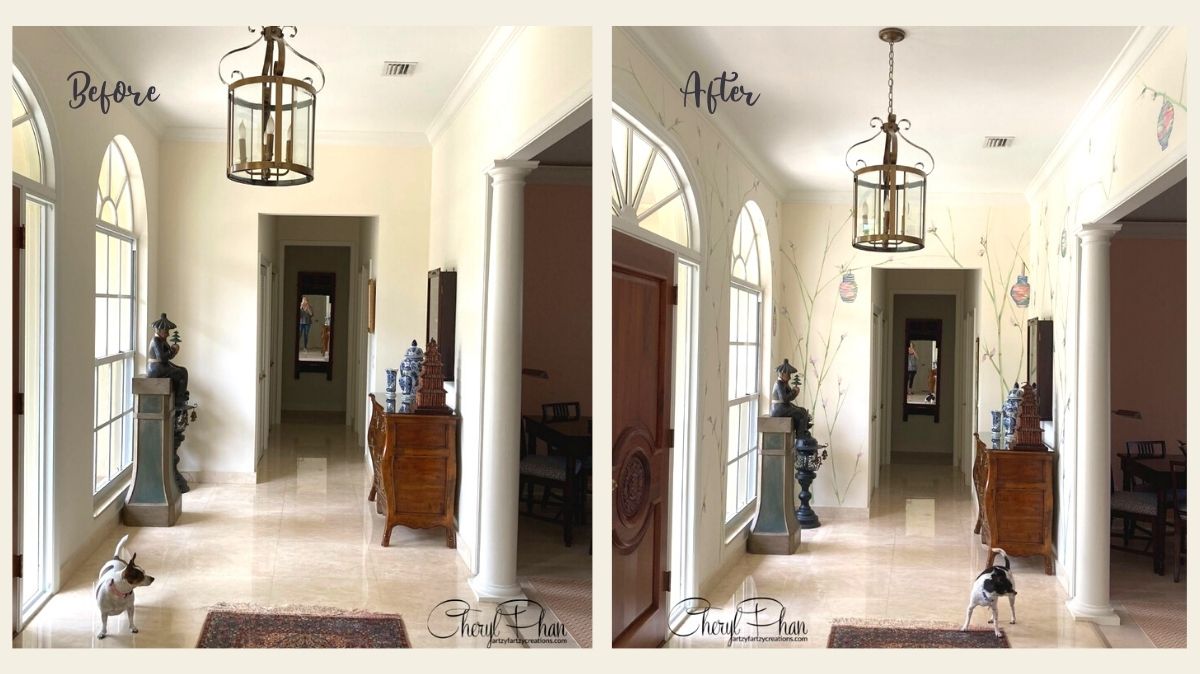 As creatives, we are always looking for inspiration for our next project that sets us apart from everyone else.
So how do we find new ideas to create a space that has that WOW! factor?
Sometimes inspiration comes from the most unlikely places. Take a look at how this chair sparked a fresh and innovative design concept for this foyer.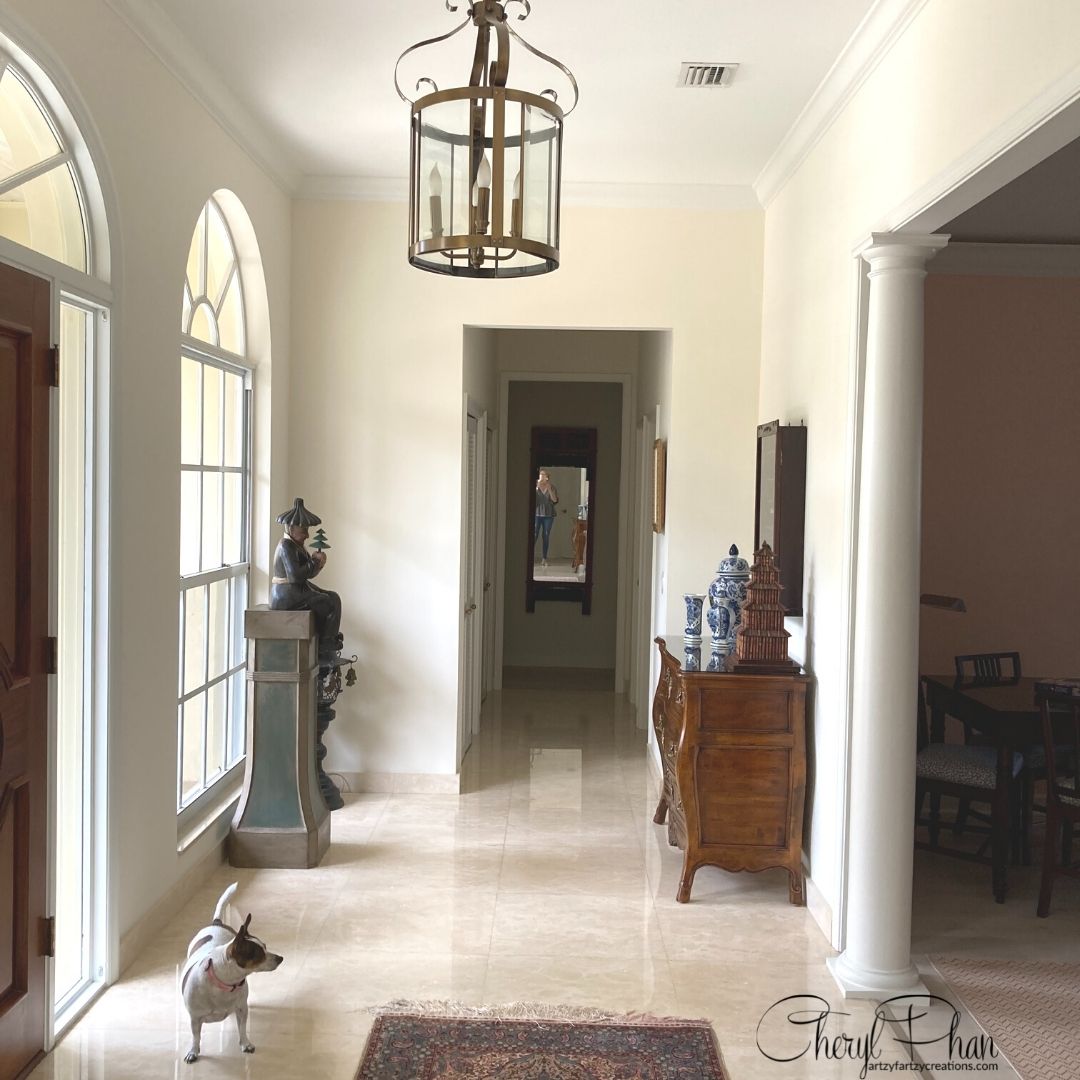 The first thing your guests see when they walk in your front door paints a picture of your individual style and your personality.  Although this foyer is decorated with beautiful accessories and furnisher it still needed a touch of color.
It was lacking that personal touch.
Think, Think, Think, what can we put on these walls? HUMM!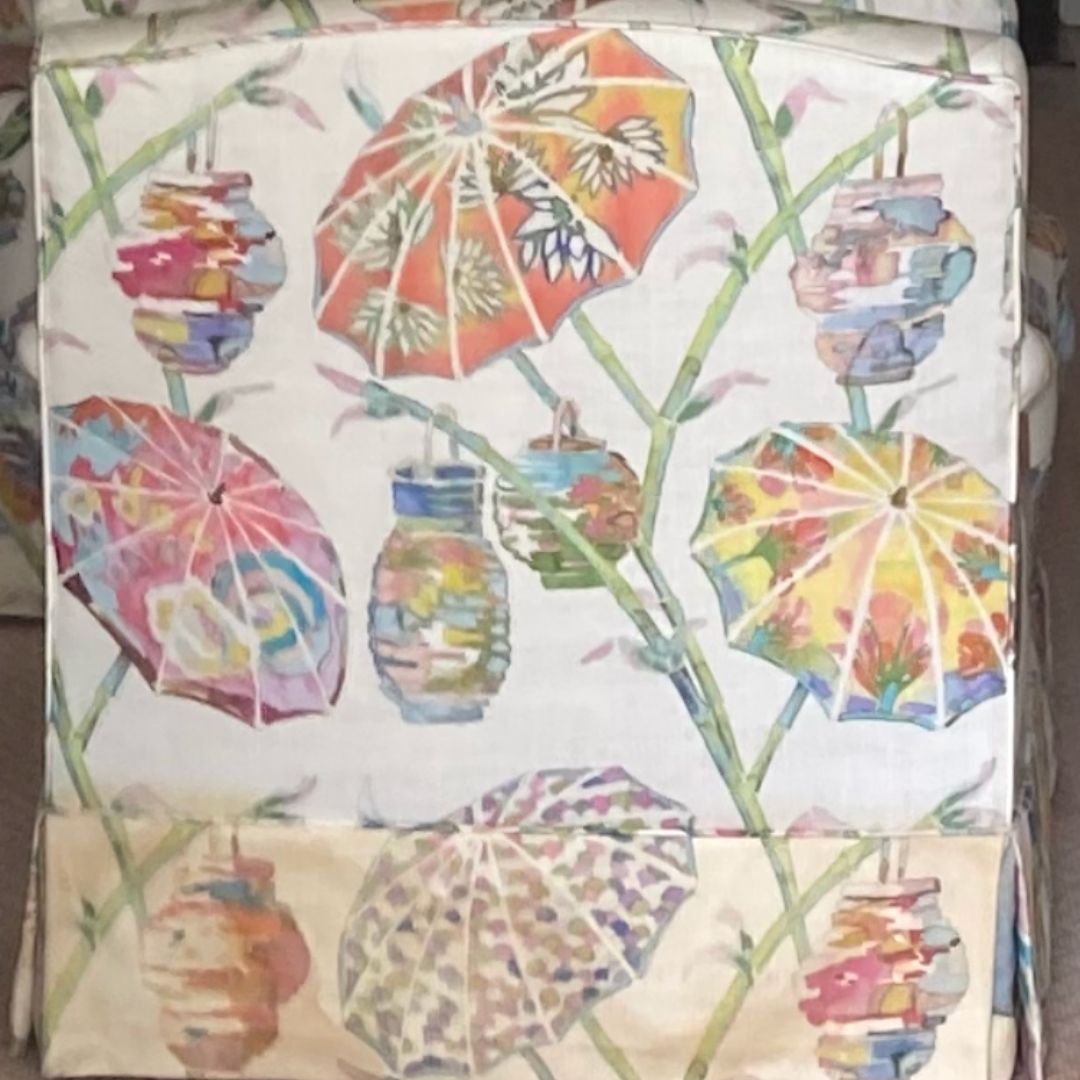 Low and behold there it was, in the next room. A chair of all things.
This is where the inspiration came from.
My client has always loved the fabric on this chair. The colors are magical, and the design is fun and whimsical. Perfect!
After talking it out we decided to take this design and have it hand-painted on the walls. To keep it simple and less cluttered we decided not to include the umbrellas.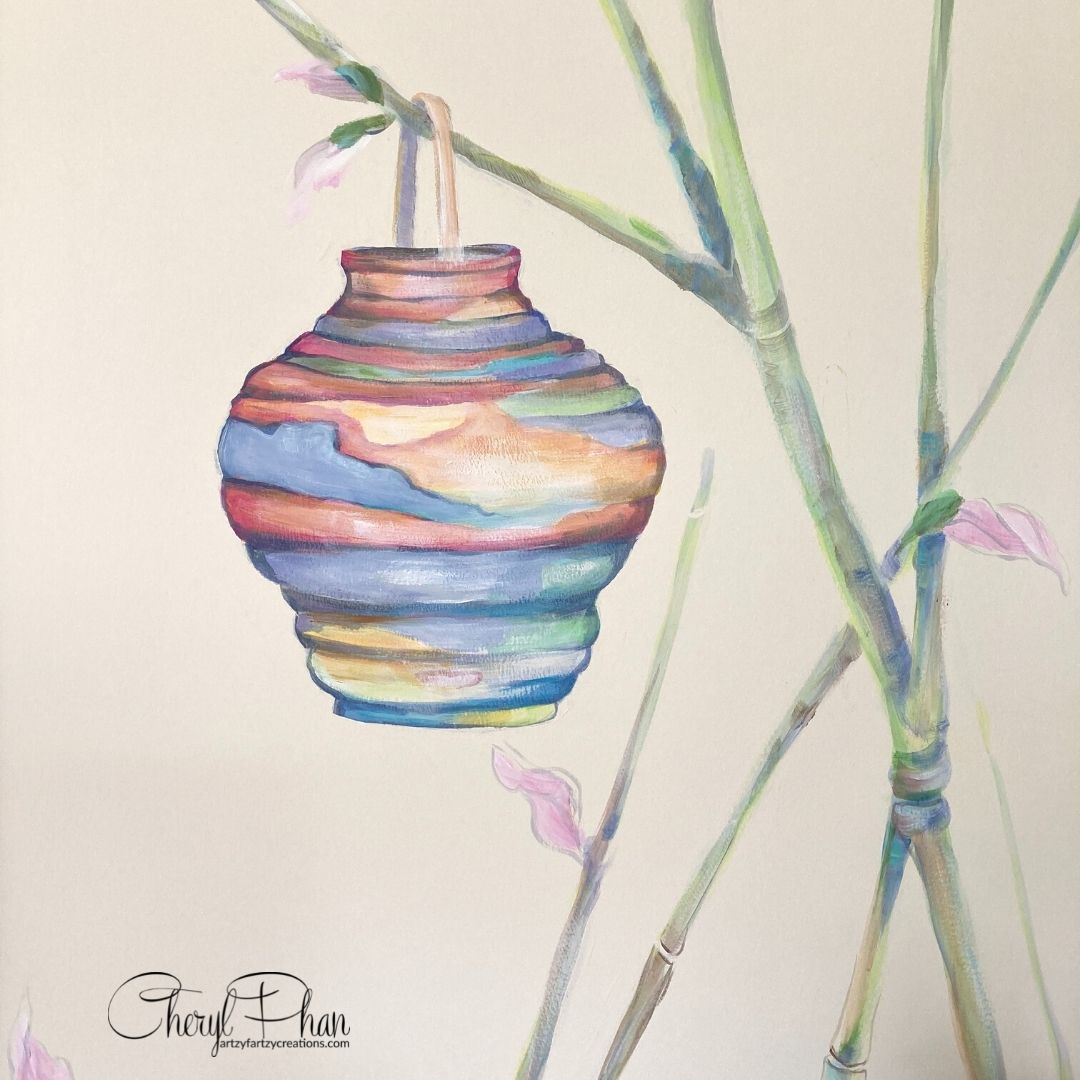 Thanks to my good friend Jodi Lee Jacovitz, who is an amazing artist and unbelievably talented.
Jodi replicated this whimsy, airy and colorful Chinese bamboo design by incorporating colorful branches and stems with varied green and light blue blends of color, along with pink, lavender, and white buds.
There are at least 6-10 colors involved in this design to give it the authentic representation, and many branch-like extensions to simulate the fabric.
I love the beautiful watercolor effect and application. It just blows my mind when I look at this. Who needs wallpaper when you can have custom art painted directly on your wall?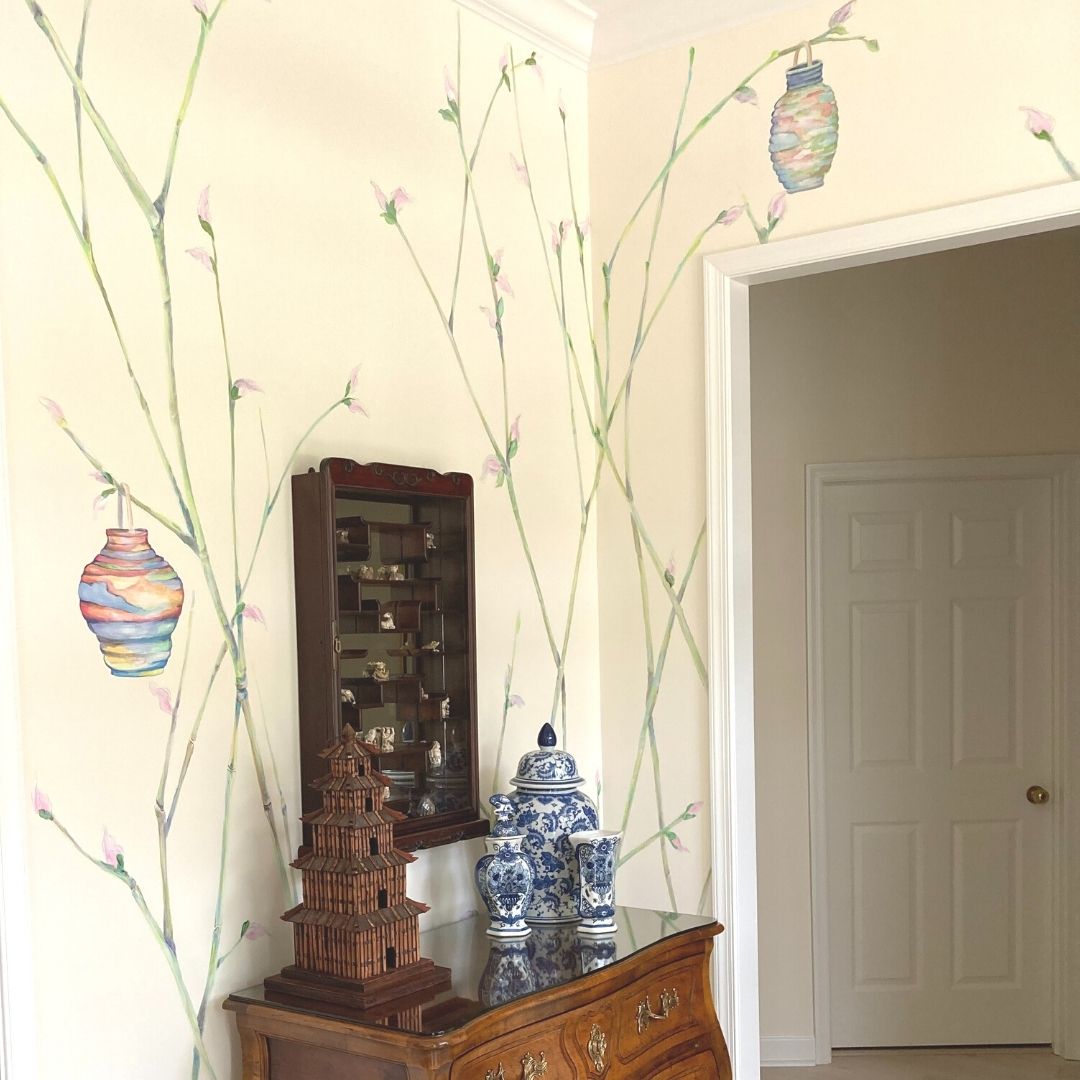 Although the wall space has several arched openings and doorways, this area is large and must travel to the height of the ceilings and travel throughout the room creating an open and airy feeling.
Before the design was painted on the wall, we took note of where all the furniture was.
The design was strategically placed so it didn't get lost behind any big pieces of furniture.
The best way to do this is to take a picture of all the walls where the furniture is before you get started. The other thing she did was apply blue tape around the furniture pieces, so she didn't paint the most important details behind it.
Smart, right!!!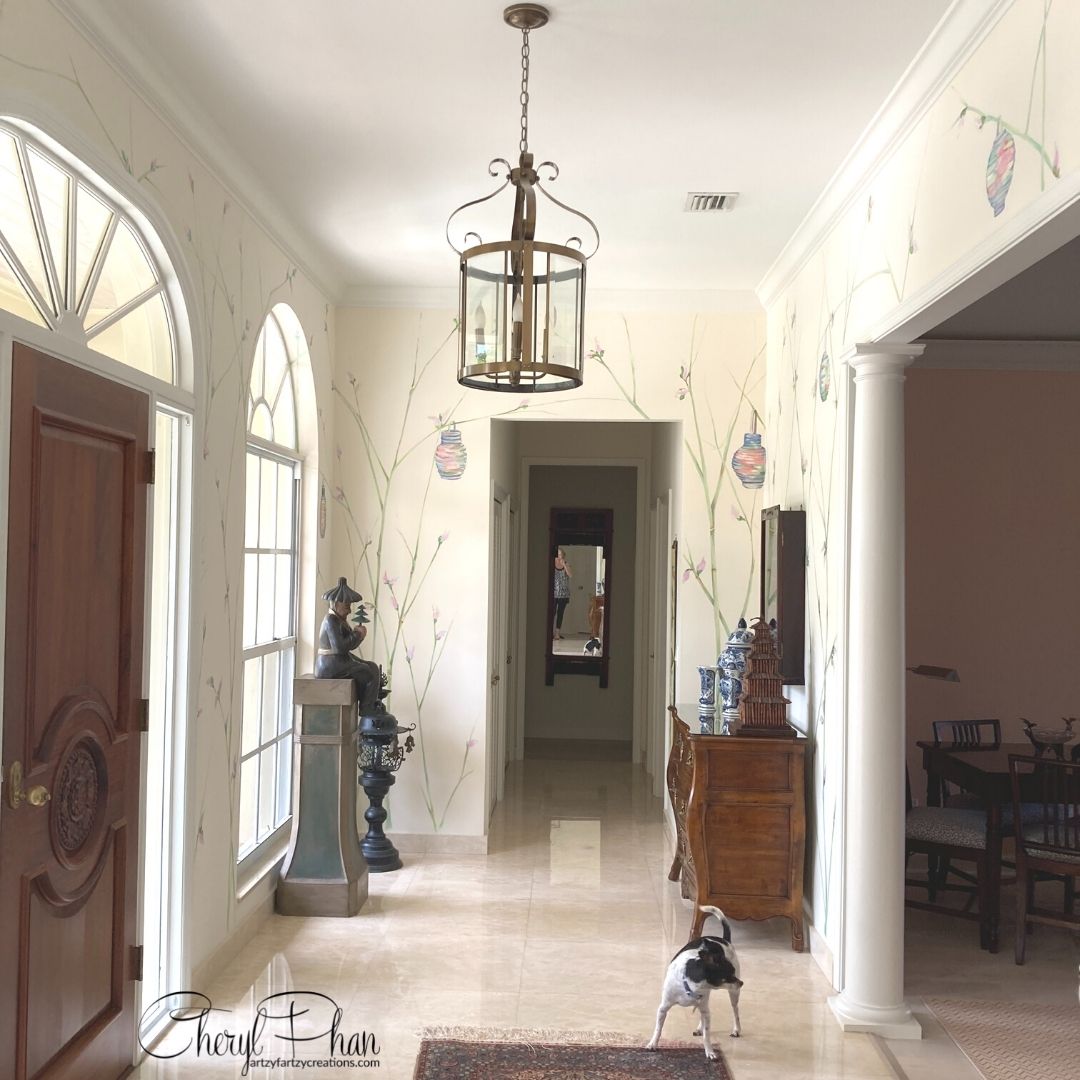 Now when people walk in the front door they are greeted with this beautiful work of art.
If you're looking for inspiration, look for things you have in your house. Your next design concept might just be right in front of you.
Just a little side note, if you're an artist and love painting on canvas you could take your art and paint it on a wall, it's just a bigger canvas. This could create another revenue stream for you.
Before I let you go, check out this design hack.
My client loved this fabric so much she wanted to buy more but couldn't remember where she bought it. So, I showed her one of my design hacks and found it for her and it was on sale for 40%off.
A little business tip: always go above and beyond for your clients. Happy client, happy life.
Blessings
Cheryl
I hope you enjoyed this and found some inspiration.
P.S.S. Are you a creative that would like to learn how to take your talent and make money online, but you just don't know how to get started?
Join Empowering Women, this is where I coach women 50+ how to take their hobby/talent and create multiple streams of income. Don't limit yourself, learn how to make money doing what you love.
See Ya on the inside!
Blessings
Cheryl