"Paint du Coco" chalk paint
I found this old end table at a consignment shop and couldn't resist rescuing it  It's like going to the SPCA and finding the ugliest puppy, but for some reason, you fall in love with it and know that when you take it home and give it a bath it will look beautiful. That's how I feel when I find old furniture. I know that sooner or later I'll find the perfect finish for it and give it a new home. If you want to know my secret to transform old furniture Click HERE I was recently introduced to the most amazing chalk paint called "Paint Du Coco". It's  so easy to use and looks amazing when you're done. It literally took me about two hours to complete this project. Start to finish with drying time. Here's what I used:
Swiss Chocolate for the base -one Pint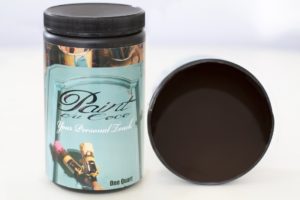 Pure Silk for the topcoat- one pint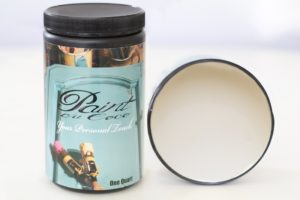 Tuff Clear Wax  over the entire table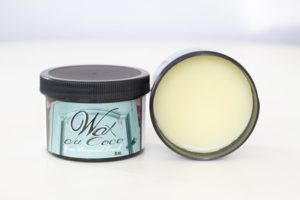 2″ Oval Brush & Wax Bruch
Rags (White T-Shirt)
Cheese Cloth
Scrub pad
Here's what I did
Clean and dry the furniture before painting (TSP) works well
Using your 2″ Oval Brush paint the entire piece of furniture with your base color (I used Swiss Chocolate) Let Dry
Using your 2″ Oval Brush paint the entire piece of furniture with your top color (I used Pure Silk)  Let dry
Wet your scrub pad and lightly rub an area on your project (The water will start to remove the paint) Remove the water with a clean cloth and lightly rub until the paint starts to come off, try to remove the paint in natural areas that get worn with age, like around the edges and raised areas. You can take off as much or as little as you want.
Last step: Using your wax brush Tap the brush into your wax. (DO NOT OVERLOAD WITH WAX) Press brush into the furniture piece and apply wax in a circular motion. Buff out before it dries (while it's still wet) with the cheesecloth.
If you love this piece, I'd love for you to use the "Pin it" button and save it to Pinterest.  If you aren't yet following me on Pinterest, you can find me HERE. Thanks for visiting me and learning more about distressing furniture. I'm always posting new decorating ideas and trendy faux finishing techniques on my Facebook page visit me HERE
Have a Blessed Day! Cheryl
If you want to learn how to start making money with your hobby get the details HERE
If you want to learn DIY Tricks and Tips get my weekly blog HERE