Decorative Artisan of the Month
 Chicago Institute of Fine Finishes 2015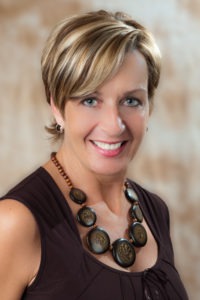 Ever since she was young, Cheryl Phan loved to paint and draw. She remembers drawing cartoon characters from magazines and taking art classes with her father. When her first daughter was born she painted her nursery in Winnie the Pooh and Eeyore. Little did she know, her creative outlet would turn into business many years down the road.
After her divorce, Cheryl enrolled in college for Mass Communications and within a few years, she was working in radio and TV sales and marketing. Although the compensation and benefits were great, the long hours and micromanagement were not what she wanted.
As an entrepreneur at heart, she found it difficult to work within the constraining realm of the corporate world. Wanting to do her own thing, she walked away from her job. That was the turning point and the start of something huge for Cheryl. "I loved painting, and I decided to start my own faux finishing business, took classes, and built a portfolio." It wasn't long before Cheryl launched her company, Artzy Fartzy Creations.
She continues to take classes when she has the time and found Kathy Carroll while researching. "I've been following Kathy and her website and have always wanted to take one of her classes." Cheryl hopes to tempt Kathy into teaching a class in Florida very soon. Based out of West Palm Beach, Florida, Cheryl predominately works in Orlando, West Palm Beach, and Tampa. She's traveled to Mississippi, Chicago, and Georgia, to name a few, and will continue to travel for the right job.
Cheryl adores the versatility of her business and the opportunities it continually offers. "I love working with and meeting new people. No job is the same and every client is different. I've become friends with a lot of my clients as well," said Cheryl. Lately, her focus has been kitchen remodeling and taking tired cabinets and counters and giving them a facelift. "I've been doing a lot of kitchen remodels and resurfacing cabinets. I like transforming an entire room, especially kitchens. People don't realize the money they'll save when redoing a kitchen with faux finishes. It's amazing how paint can transform a room and how durable it is. Not to mention, it's a quarter of the price of a remodel, no demolition mess, and it's beautiful."
A fun kitchen remodel Cheryl was called in to do was a partial job the husband had begun. "My client had painted the cabinets on his own and his wife didn't like them. So he called me to refinish them in a wood grain. He was so happy with the job that he was blowing kisses at me as I was leaving." Both husband and wife were thrilled, as the kitchen project had turned out exactly how they'd hoped after Cheryl had completed it.
Cheryl is meticulous when she paints, and wood graining is one of the things she's known for. She was shocked when a potential client called her for a bid on a 5000 square foot home. "He had fifty six doors and wanted me to give him a price on wood graining all the doors. "I thought there was no way he would do every door and frame in his house. After sending him the quote, I called him and he said, 'Yeah looks good to me.' The job turned into nine ceilings, medallions, a huge TV unit, four niches, columns, a whole bar in wood grain and venetian plaster, a garage door, and so much more," said Cheryl.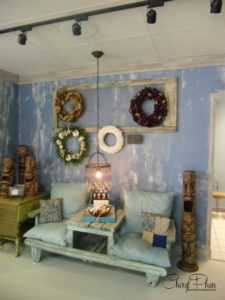 Every job, whether big or small, is important to Cheryl. In addition to her normal workload, she has been helping out in her community with Habitat for Humanity and plans to continue to incorporate charity work. "I'm going to do an accent wall for the new owners of the home [Habitat for Humanity]. When they build a home for my community, I will do an accent wall as a housewarming gift. Cheryl also likes working with organizations that work with children that have special needs. I'm working with volunteers to bring joy and color to their life because a lot of these kids are confined to their beds and only have a ceiling and white walls to look at. I'm going to add that to my business, giving back to the community. God gave me a talent and I'm going to use it." In addition to giving back, Cheryl is continuing to build her business, networking with individuals in the decorative finishing community, and branching out with social media.
If you want to learn how to start making money with your hobby get the details HERE
If you want to learn DIY Tricks and Tips get my weekly blog HERE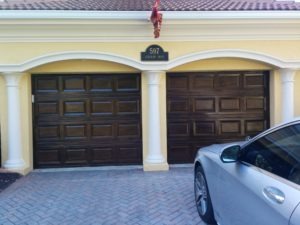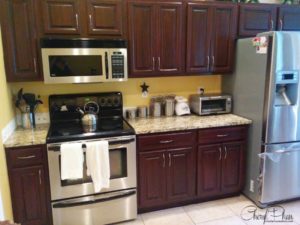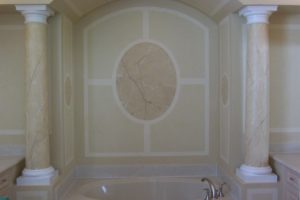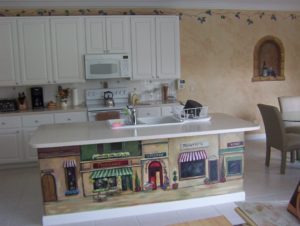 Home : Decorative Store : Decorative Artisan Courses Schedule : Decorative Artisan of the Month : Decorative Finish of the Month
A-La-Carte : Gallery of Decorative Finishes : About Kathy Carroll : Our Students Work : Artisan Video Testimonials
Get Great Results! : Decorative and Faux Painting Defintions : Preferred Decorative Artisans : Contact Us
Faux by Kathy ©2003-2015
All Rights Reserved.
Created and Maintained by
Polka Dot Sox Creative Group