While a friend of mine was out of town, I decided to give one of her bathrooms a facelift. This will be like the TV show Extreme Home Makeover. She will be seeing this for the first time when she comes home. It's so stinking cute
!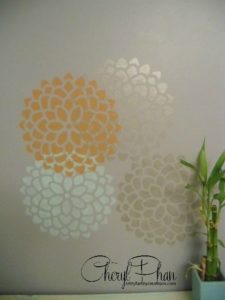 The first thing I did was paint the walls in this Star Glazer gray color (eggshell), and then I stenciled these adorable flowers sporadically around the room. I use a metallic silver, a coral eggshell paint left over from a job, and a Caribbean Aqua chalk paint. Yup! you guessed it, I just used what I had on hand. If you don't have the colors you want to use just go to the art store (Michaels) and buy the small 4 oz thing of acrylic paint. You don't have to spend a lot of money to give it a designer look. In fact the different sheen tend to give it some depth.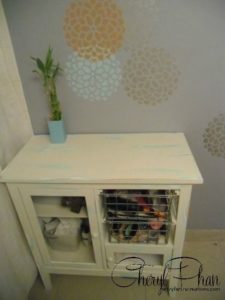 I also took this table that is used for storing makeup and hair supplies and painted it with chalk paint from Paint Du Coco. The first layer was painted in Caribbean Aqua and then  Pure Silk was on top. Once it was dry I distressed it so the Caribbean Aqua color came through to enhance the stencil on the wall.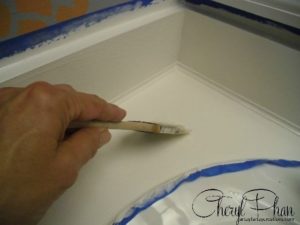 The final step was to paint the countertop in a marble finish and paint the cabinets (I used Benjamin Moore Advance satin) for the cabinets and the base coat for the countertop marble finish.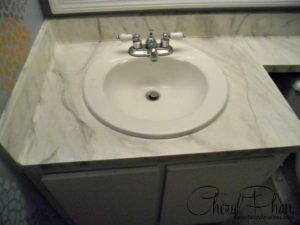 I wanted the countertops to have a light gray marble finish to give the room a cohesive look and keep it light and airy. Then of course I had to buy a new shower curtain and rug for the finish touch.  I can't wait for my friend to see it!
If you want to learn how to start making money with your hobby get the details HERE
If you want to learn DIY Tricks and Tips get my weekly blog HERE
Happy Painting, Cheryl