We live in a fast pace world with internet, texting and emailing and although it's important to keep up with the times in this crazy world of technology, many of us (including myself) have forgotten about the best advertising out there – "Word of Mouth advertising" – and it's free.
Sometimes we just need to go back to the basics. Every year I sit down to do an analysis of my business and what's working the best. What I've found is that 80% of my business comes from word of mouth and referrals. Here are the 3 things I do to generate new business that are very simple and effective!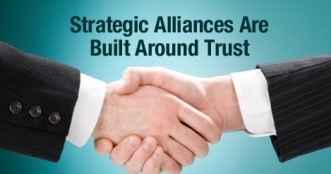 #1: Find your Strategic Alliances
First and for most, you need a team of people promoting you. I call them my ambassadors or my strategic alliances. In my business as an Artist-Faux Finisher, I look for people that have the same client base but don't compete with what I do.
For example, one of my strategic alliances would be a Realtor, why; they work with people that are buying and selling their homes. Their clients need my services, more often than not when someone buys a new house, they what to paint it and give it their personal touch and that's where I come in. I designed a referral program that benefits the Realtor, the Homeowner, and helps me generate new business. It's a win-win-win for everyone.
Another strategic alliance would be Contractors and painters, many times a client will ask them if they know someone that does Faux Finishing, or they may want their Kitchen cabinets painted or garage door wood grained. Most painters just paint they do not know how to do decorative finishes. Contractors and painters look for artists that they can subcontract these services out to.
Lastly, Interior Decorators are a perfect lead source. They are always looking for qualified professional faux finishers. Interior Decorators and Designers have the ability and talent to transform a boring room into a showcase but may need to enhance it with a focal accent wall or transform an entire room for that Wow factor.
And don't forget your friends and family, they are your best cheerleaders.
Think about who your strategic alliances would be and make it a point to reach out to them.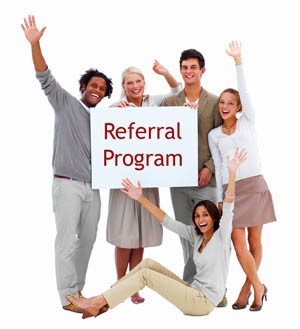 #2: Referral Program
This is where most business owners miss the boat. They don't reward the people that give them a referral. To many people out there are takers, learn to be a giver; remember "Givers always gain".
Let's face it; we spend thousands of dollars for paid advertising in magazines, direct mail, and the media and we're lucky to get a 1% return on our investment right! In my past life I worked on TV, Radio, and print so I know how expensive it can be and I also know there's no guarantee you'll get any business.
Here's what I did that works for me, I came up with a referral program for friends and family. If someone gives me a referral that turns into a business, I buy a gift certificate and I send it to them in a thank you card. (It's also a tax write off)
When I work with Realtors, I give them a $300 gift certificate to give to all the clients that buy a house from them. This works two-fold first this is a nice gesture from the realtor to the client as a way of saying Thank You and second, the client also receives a nice discount when they decide to paint their house. I also want to reward the Realtor, because they're the one who got me the job; so, I give them 5% of the job after my expenses.
I work a little differently with Interior Decorators and Contractors. In most cases, I give the decorators and contractor my discounted cost of doing the project and they add in their fees.  You do what is comfortable for you.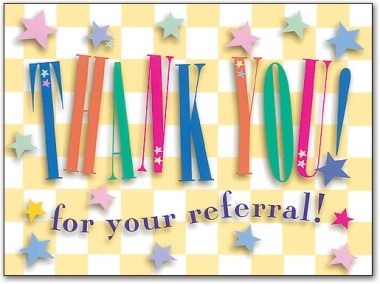 #3: Thank you
Lastly, I always, always send them a handwritten thank you card and add 2 of my business cards for them to share. This is just good old fashion business!
You may not work in the decorative painting business but no matter what you do you have strategic alliances. Make a list of 3-4 businesses that have the same clients as you but are not your competitors and reach out to them.
Here are some examples:
If you're a:
Cake Decorator
Wedding planner
Party planner
Parents with children
Jewelry maker
Personal shopper
Local retail stores
Friends & Family
Staging or Organizer
Realtors
Homeowners trying to sell their home
New development -Condos- office buildings
Travel Guide
Cruise ships
Local SBA
AAA
Photographer
Realtors
Wedding planners
Schools
Makeup Artist
Wedding planners
Photographers
Every Business has its own Ambassadors!
I hope this was helpful. If you want to learn how to start making money with your hobby get the details HERE. We take a deep dive into all the components and strategies to eliminate the overwhelm and get you on the fast track. Hope to see you there.
Blessings
Cheryl