LEARN A NEW PAINT PROJECT!!
——————————————————————————————————————————————————
These are my tutorials from Paint your own Project– you can purchase for $27 each. They include step-by-step video demonstration and complete supply lists.
More About the Paint Your Own Project Tutorials
•    Have you ever seen a beautiful piece of hand-painted furniture and wondered "How they did that?" and wish you could paint like that, but you just don't know where to start?
•    Are you afraid you might mess it up?
•    Not sure what to prep and what not to prep?
•    Or maybe your struggling with selecting the right colors for your project?
NO PROBLEM……. I've got you covered
I will teach you my trade secrets, share my unique techniques that I haven't share with ANYONE -EVER and I'll guide you through every step of the process…. All in the comfort of your own home.
It's EASY PEASY!        
I'm constantly being asked questions about furniture painting, and many of you have asked me to teach a class. The problem was many of you live in different states, so; I decided to take it online and share all my Dirty Little secrets….. Just kidding, I'm going to share all my PAINTING TRICK & TIPS and TRADE SECRETS. We are going to do this as a group……. online …… together!
My GOAL is to inspire you to take your creativity to the next level, to help you discover new products and techniques, provide you with everything you need to have fun while creating beautiful pieces of furniture that you can display in your home or sell in your business.
Whether you're new to painting or you have been in the business for year like I have, you will discover new trick & tips that will help make your painting experience fun & profitable.
Here's what you will receive:
•    Step-by-step video featuring a new painting technique to transform your trash-to-treasure
•    My specialty faux finishing techniques that will only be shared in this class
•    Resources to the products, tools and paints that I love and use
•    Tricks & Tips the Pros use to make it easy and save you money
•    Access to my private Facebook group "PYOP" where you can ask question, post your before & after projects and connect with other DIYers like yourself
My tutorials each feature a new painting technique that you can replicate on your own piece of furniture.   

Some of the techniques you'll learn:
Painting furniture with latex paint and chalk type paint
Glazing & waxing
Make your own chalk paint and save a ton of money
Painting on velvet fabric
Distressing furniture
Stenciling
Staining
Decoupage
Embellishing with bling and things
Transferring a design on a piece of furniture
Crocodile finish (my most sot-after technique)
And I have a few surprises in store!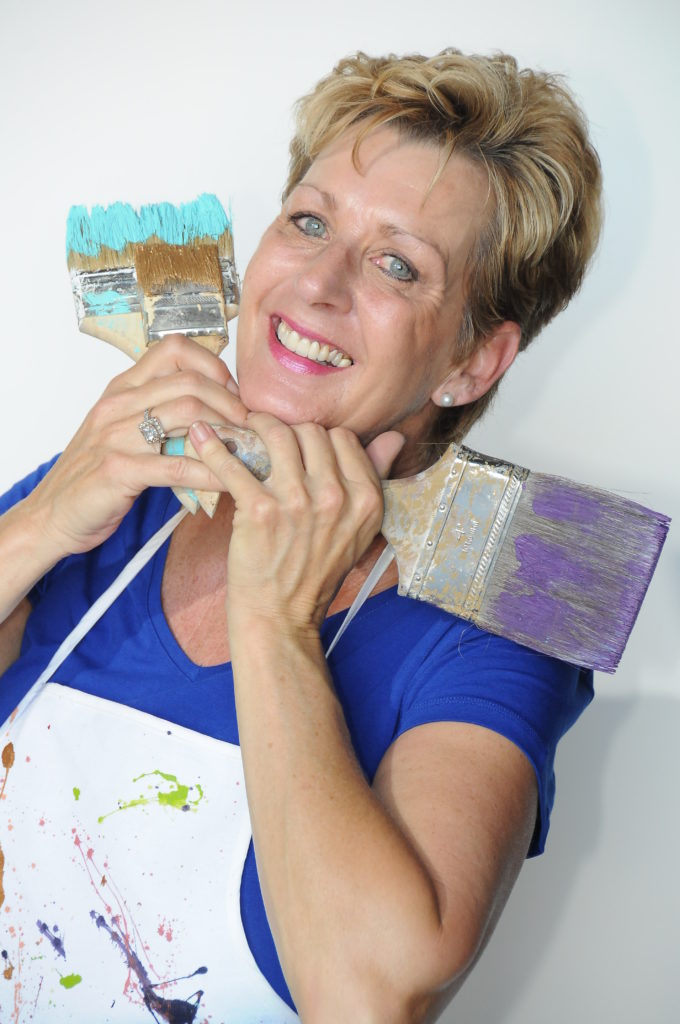 Your Instructor: Cheryl Phan
Cheryl Phan is a creative entrepreneur and painting business owner who teaches creative DIYers how to turn trash into treasures using her unique painting techniques, budget-saving knowledge and expertise. Through her 17 years in the decorative painting business, published e-book, inspiring blogs, and furniture-painting workshops, she's here to encourage you to create beautiful pieces of furniture on a budget!
FAQ
How will the information be delivered: The supply list and video will be emailed to you via Gumroad. 
Will you be able to ask questions in the group? YES! I will help you as much as I can with your own personal piece! You will get access to my knowledge and have my guidance.
Do you have to watch the videos at a certain time? No, you can watch them anytime you want. That's the beautiful thing about a virtual class – you will have lifetime access.
Will you have access to the videos after our virtual paint party? Absolutely! They are yours to watch later! Make sure you save the link in a safe place.
What if you have never painted before? Then THIS is a perfect place for you!!! I will give you step-by-step instructions, resources and information to make this process as easy as possible.
Will you have to use certain products? No! I will what I personally use and like, but you can use any paint product you want.
Does your furniture piece have to be wood? No, I will be demonstrating how to paint wood, veneer, velvet fabric and many other types of furniture.
How will you decide on colors? You will need to come up with a general idea of the color you want your piece to be (or just copy what I am doing) If you need help, you can always post a picture of your piece in the private group for help and suggestions.
How do I get the paint? I will give you online links to a few of the products I use and suggest other resource where you can purchase your supplies. You will be purchasing your own products…. I'm just walking you thru the process!
What if you have painted a ton of furniture already? I've been painting for over 30 years and have been in business for over 17 years and I still take classes to learn new techniques! I can almost promise you will learn new techniques and products that will help you on future projects.
Pinterest Inspired? I am making a Pinterest board JUST FOR YOU! You can showcase your before and after pictures on this board and let the world see your masterpiece!  
I can't wait to paint furniture in this PYOP party with you….  Let's have some fun!