I know I'm going to get lot of heat for this post, but hear me out. I've been painting for a very long time and I love chalk style paint as much as you do. Like you, I've been paying between $35-$40 a quart for chalk style paint, that's approximately $160 a gallon. The good news is, I have the secret ingredient that they use to make chalk paint and I'm going to share that secret with you. (Skip Below to get my secret!)
Before I let the cat out of the bag … READ THIS

WHAT IS CHALK PAINT?
To be perfectly honest it's a trademarked brand of paint by Annie Sloan, but other companies created similar paints that create a chalky appearance. But one thing they all have in common is, the additive or powder that is added to make it a chalk paint. Chalk paint is simply flat or matte paint with an additive mixed into it to give it a gritty, matte finish. Many DIYers and crafty people use it because in most cases it eliminates the need to prep the piece of furniture before painting it. Chalk type paint is all the crave because it covers easily, goes on smooth, dries fast and creates a beautiful finish that is perfect for distressing with very little effort. The only problem is, it's a little pricey at $35-$40 per quart.
The good news is, it's also easy and inexpensive to make it yourself with my Magic Powder.
Here's a chart that compares the cost of buying ready-made chalk paint or making it yourself.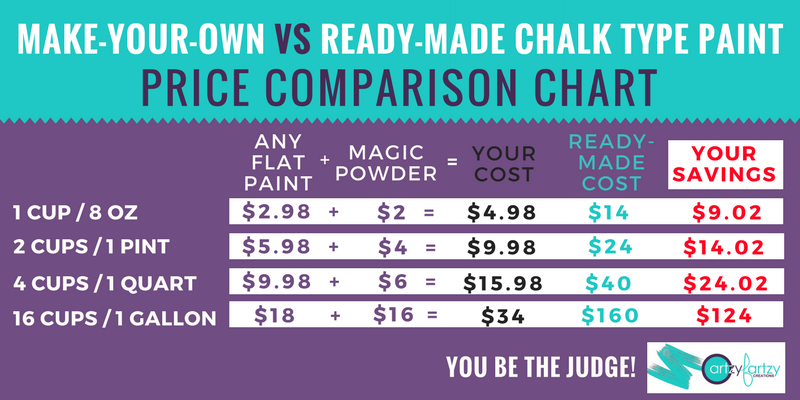 Make what you need chalk type paint cost around $40 a quart (This is not a typo…YES, a quart) that's $160 a gallon. This is why, so many people are making their own chalk paint. It will save you a lot of money and you can make as much or as little as you need and not have to store the leftovers.
If you're in the business of repurposing furniture and use a lot of chalk paint you're going to have an AH-HA moment and say, "Why didn't I think of that?" That was my first thought. And if you're a DIYer who loves to paint but has hundreds of dollars of leftover paint stock piled in your garage, you're going to LOVE this Magic Powder as well.

Unlimited Color Pallet
Here's another reason people make their own chalk paint. The color pallet is endless. You can use ANY flat or matte latex paint from ANY manufacturer. How cool is that! Nobody needs to buy a $40 quart of paint to paint a picture frame. I buy a sample of Behr paint at Home Depot for $2.98 and add 3 TBSP of my Magic Powder. THAT'S it!
Get my free Video how to make your own chalk type paint …
Before you watch this video, let me be clear. I'm not trying to convince you to stop using the chalk type paint that you're currently buying, I'm simply sharing my knowledge and experiences with you to help you save money. I'm in the painting business and as a business owner I am always looking for products that work well and save me money. Let's face it, it's all about the bottom line. Sign up below to get my free video – how to make your own chalk paint ….